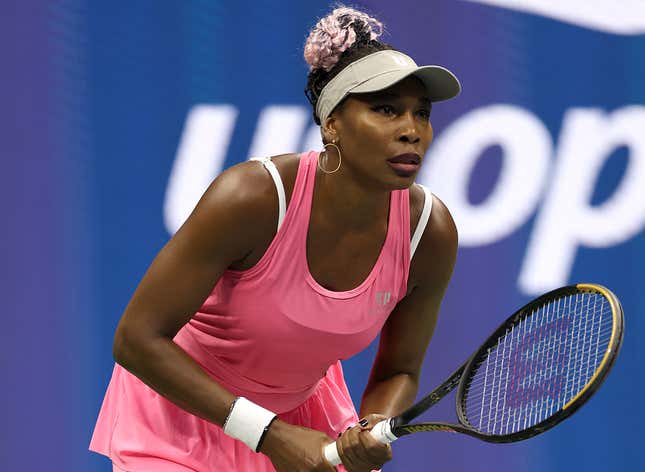 On Tuesday night, seven-time Grand Slam champion Venus Williams entered Arthur Ashe Stadium in Queens, NY for her 100th match at the US Open. She received her usual raucous welcome from the fans and prepared for what she thought would be a fairly routine first-round match against Belgian qualifier Greet Minnen. Unfortunately, Venus suffered an unexpectedly lopsided 6-1, 6-1 defeat. The shocking loss has once again led to questions about when she will retire.

A Look Inside The 2022 National Portrait Gala
Shoutout to Minnen. She was completely unafraid of the huge moment or very pro-Venus crowd. She simply outplayed the legend. It obviously helped that she'd already played three qualifying round matches, while Venus had an unsuccessful hard court season, and was coming off yet another injury.
"I really have to give credit to her. It was just incredible, honestly," Williams said in her post-match press conference. "I mean, if she can play like that, you imagine that she can be in the top 10, or perhaps No. 1, or maybe win a Grand Slam, something like that, if she can play at this level."
Over the last few years, it's become abundantly clear that she is not the Venus who made the finals in her US Open debut in 1997, setting the stage for a new era in tennis in the process. Every once in a while, we still get flashes of her brilliance and power, which reminds us why we love watching her play. At 43-years-old, the five-time Wimbledon champion is very aware that she's not the athlete she once was, but that doesn't mean she's ready to quit anytime soon.
In her post-match press conference, she was disappointed in the loss, but she certainly didn't seem dejected. Whenever the subject of retirement comes up, Venus makes it clear that she still loves the pure act of playing, and that's what drives her now. She has confidence in her abilities, but she also has realistic expectations. She just wants to keep playing the sport she loves, as long as she can. After everything she's done to advance Black women in sports, as well as inspire an entire generation to know their value and fight for equal pay. she's allowed to walk away when she wants to, and not a minute sooner.
Yes, her US Open exit was not easy to watch, but it seems like we're more upset about it than Venus is. We're not the ones who spent their whole lives on the court, or fought tooth and nail to establish herself as a Black champion in an all-white world, so we will never know what her journey has truly been like. Considering how hard she had to work to get here, it's understandable that she needs time to decide when she wants to step away from competitive professional tennis. No one comes to your job and tells you when it's time to hang it up, so maybe extend Venus Williams the same courtesy.