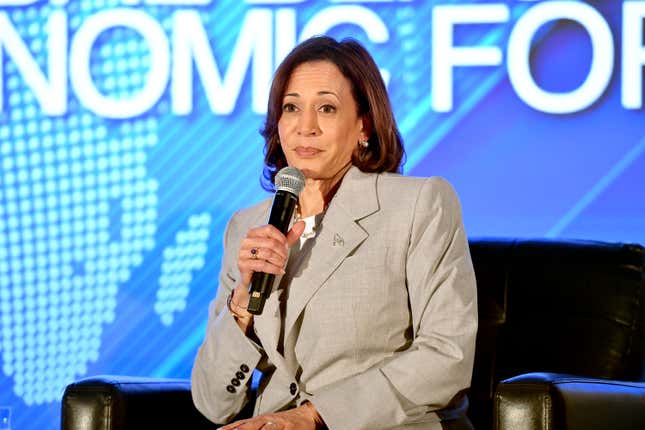 With the stroke of a pen, on Thursday, the Supreme Court rolled back decades of work pushing equity in higher education. The court ruled that Harvard University and the University of North Carolina's race-conscious admissions policy were unconstitutional. In doing so, they severely limited the use of race as a factor in college admissions.
Despite being at Essence Fest when the news broke, Vice Kamala Harris responded swiftly to the ruling. "The highest court in our land just made a decision today on affirmative action, and I feel compelled to speak," Harris told the crowd. "This is now a moment where the court has not fully understood the importance of equal opportunity for the people of our country, and it is so many ways a denial of opportunity."
However, Harris was far from the only Black politician to respond. On Capitol Hill, the Black Caucus put out statements decrying the decision alongside the Congressional Hispanic Caucus and the Congressional Asian-Pacific American Caucus. "Today's decision deals a needless blow to America's promise of equal and fair opportunity," they wrote.
Newer faces to Congress, like Representative Summer Lee, took direct aim at the court. "Make no mistake—the decision by this corrupt and illegitimate Supreme Court was *designed* to keep a generation of brilliant Black young people out of higher education and positions of power," wrote Lee.
Former President Barrack Obama and First Lady Michelle Obama also weighed in, with personal sentiments as well as direct calls to action.
"Back in college, I was one of the few Black students on my campus, and I was proud of getting into such a respected school. I knew I'd worked hard for it," wrote the former First Lady, who attested Princeton University. "But still, I sometimes wondered if people thought I got there because of affirmative action."
Her sentiments echoed a feeling shared by many Black graduates who attended highly-selective colleges. "But the fact is this: I belonged," she said. "And semester after semester, decade after decade, for more than half a century, countless students like me showed they belonged too."
In a tweet linking to his wife's statement, along with organizations aimed at benefiting students of color, former President Barrack Obama called for action.
"Affirmative action was never a complete answer in the drive towards a more just society. But for generations of students who had been systematically excluded from most of America's key institutions—it gave us the chance to show we more than deserved a seat at the table.
In the wake of the Supreme Court's recent decision, it's time to redouble our efforts," tweeted the former President.
However, there was perhaps no more poignant voice on the matter than Supreme Court Justice Ketanji Brown Jackson, who called the decision "a tragedy for us all."
"The only way out of this morass—for all of us—is to stare at racial disparity unblinkingly and then do what evidence and experts tell us is required to level the playing field and march forward together, collectively striving to achieve true equality for all Americans," wrote Jackson in her blistering dissent. "It is no small irony that the judgment the majority hands down today will forestall the end of race-based disparities in this country, making the colorblind world the majority wistfully touts much more difficult to accomplish."