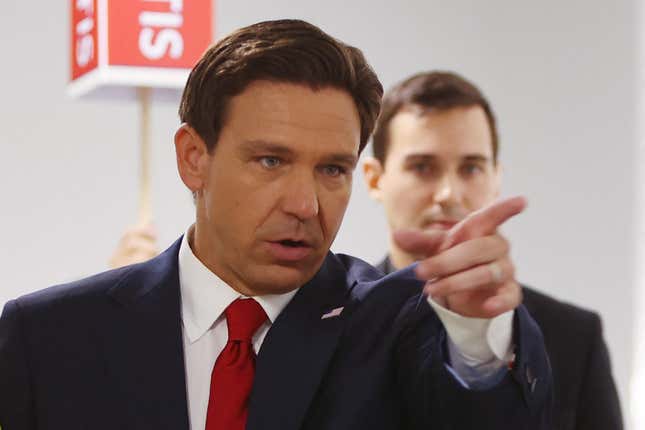 The aftermath of the horrific shooting in Jacksonville, Florida, continues to play out in the state. On Thursday, Florida Gov. Ron DeSantis lost it on a Black Air Force veteran, who questioned whether the governor's policies contributed to the horrific killing of three Black residents by a man donning a swastika and a white supremacist badge.

White People, Here's Why We Need Black History Month
The man who identified himself as a veteran was called on to speak at a news conference in Jacksonville. He said that while he appreciated DeSantis' military service, he felt that the governor's policies enabled "immature hateful people" to get their hands on weapons. "You have allowed people to hunt people like me," he said, referring to the Dollar General store shooting.
DeSantis immediately cut him off, even as the man asked him to let him finish. "I'm not going to let you accuse me of committing criminal activity. I am not going to take that," said DeSantis while pointing at and raising his voice at the man.
The American Civil Liberties Union in Florida responded to the Governor's comments, echoing the Air Force Veteran's comments.
"Gov. DeSantis' policies have made Florida less safe for Black people in Florida," posted the ACLUFL on X (formerly Twitter), along with a video of the encounter.
This isn't the first time Floridians have accused DeSantis of complicity in the white supremacist shooting. DeSantis was booed at a vigil for the victims in Jacksonville, and local leaders criticized DeSantis for creating an atmosphere in the state that has allowed hate to thrive.
"Gov. DeSantis has created and pushed a narrative of division and hate that is anti-Black," Rev. Jeffrey Rumlin, pastor of The Dayspring Church in Jacksonville, told PBS News.
Even before the shooting, the NAACP issued a travel advisory for the state of Florida, arguing that DeSantis' attacks on Black history and his war on diversity threatened Black Americans.
"Florida is openly hostile toward African Americans, people of color, and LGBTQ+ individuals. Before traveling to Florida, please understand that the state of Florida devalues and marginalizes the contributions of, and the challenges faced by African Americans and other communities of color," read the advisory.
At the time, DeSantis dismissed these concerns. And in the wake of the racist shooting in Jacksonville, it's clear the governor hasn't gotten any better at hearing criticism from Black Americans.