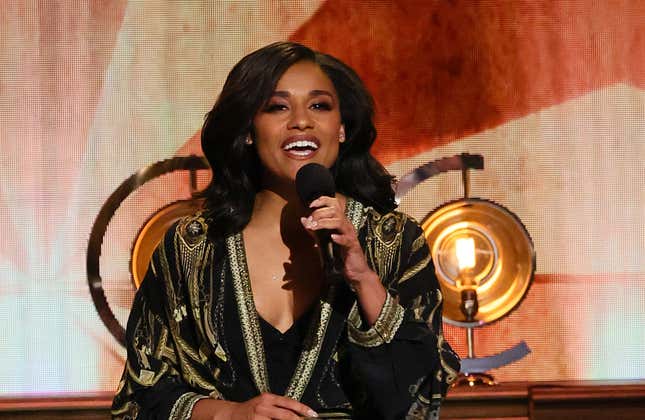 If there's one award show that's going to be able to still entertain audiences without a script, it's the Tony Awards. The event may not have had jokes and comedy sketches to fall back on, but there were plenty of spectacular musical performances from across Broadway, including Some Like It Hot; Shucked; New York, New York; and Chicago.

On Sunday, Oscar-winner Ariana DeBose hosted the celebration of Broadway, starting the night by telling the audience, "I'm live and unscripted. You're welcome. To anyone who may have thought that last year was a bit unhinged, to them I say, 'Darlings, buckle up.'" It was by no means a perfect show but it felt fun. While there were several shoutouts and supportive messages for striking writers, it was also noticeable that without awkward awards show banter, more focus landed on the winners, some of whom made history.
Shucked's Alex Newell and Some Like It Hot's J. Harrison Ghee were the first non-binary performers to win Tonys. While accepting the award for Featured Actor in a Musical, Newell emotionally told the audience, "Thank you for seeing me Broadway. I should not be up here as a queer, non-binary, fat, Black, little baby from Massachusetts."
Ghee tearfully accepted the award for Lead Actor in a Musical, saying, "For every trans, non-binary, gender non-conforming human—whoever was told they couldn't be seen, this is for you."
The Broadway community made a very pointed statement about the politically charged world we're currently living in. Many of the shows recognized dealt with issues of race, anti-Semitism and gender identity. While accepting the Tony for Best Revival of a Play, Topdog/Underdog writer Suzan-Lori Parks said, "Theater is the great cure."
Perhaps the most poignant moment of the night came from Parade's Michael Arden. The show chronicles the 1913 trial and 1915 lynching of Leo Frank, a Jewish man living in Georgia. The show was protested by neo-Nazis on its opening night. As he accepted the award for Best Direction of a Musical, Arden—noting the white supremacy, homophobia and transphobia currently sweeping through the country—said, "We must battle this, or else we are doomed to repeat the horrors of our history."
As thought-provoking and entertaining as the show was, there were still some notable misses by the voters. I'm sure Sean Hayes gives a great performance in Good Night, Oscar, but I can't fathom not recognizing Wendell Pierce for Arthur Miller's Death of a Salesman, Yahya Abdul-Mateen II or Corey Hawkins for Topdog/Underdog. I also want to take a moment and marvel over Joaquina Kalukango's stunning performance of The Phantom of the Opera's "Wishing You Were Somhow Here Again" during the In Memoriam segment.
The 76th Tony Awards were a spectacular celebration for the theater community, but they also showed how fantastic art can be when multiple perspectives and ideas are represented.