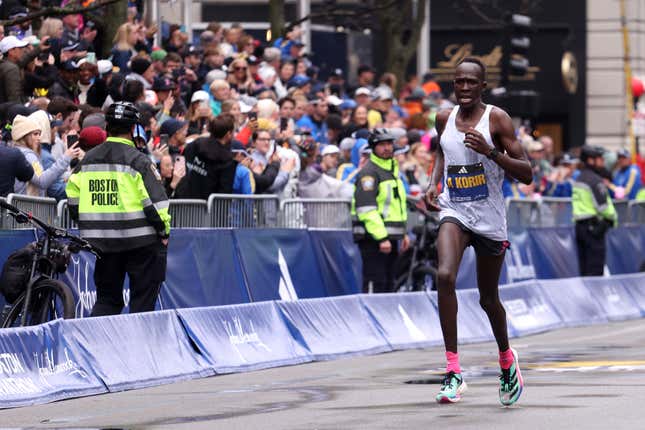 Members of the Pioneers Run Crew say while running in the Boston Marathon Monday, their cheer zone was blocked off by an overwhelming police presence, according to The Boston Herald. Supporters posted the scene to social media criticizing the officers for racist policing.

This Juneteenth We Revisit The Anderson .Paak BLM Track "Lockdown"
If you've ever been to a marathon - particularly, when you know someone who is running - you anticipate the moment they turn your corner so you can stretch out your hand for a high five of encouragement. At the 2023 Boston Marathon, the Pioneers Run Crew had their own cheer zone set up with supporters at Mile 21 - where the run becomes the most challenging. Social media videos showed the scene within the cheer zone where DJs played music, people were on the grill and others waited for the running members to pass by so they could call out in support.
Mike Remy, a Pioneers Run Crew member, told Buzzfeed News that around noon, he noticed the cheer zone was suddenly surrounded by a group of Newton police officers.
"It felt like a traffic stop. There was one cop on a bike kind of cruising back and forth. After doing about four passes, he came back with some friends," said Remy. "It just doesn't feel like a coincidence that the cheer zone that was policed is the cheer zone that was organized by Black and brown people."
Some supporters took to social media outraged against how they were treated by the police officers and calling them out for racially targeting them.
Read more from Buzzfeed News:
Thousands of people online shared their frustration at the police response. "I had runners legit crying and telling me thank you for the support… only to have the police show up, line up blocking the cheer zone, and then tell me that ill be in hand cuffs in short order," one user commented. "Disappointing. Triggering. Not okay. This moment wrecked the vibe of something truly celebratory and beautiful," another wrote.

Cheer squad member Asia Rawls, 32, said she felt "upset" when the police began arriving. "We didn't hand out anything, not even a bottle of water," she said. "We didn't hand out beer or alcohol. It was just simply happiness."

Rawls overheard one of the officers telling an onlooker: "You're gonna get arrested if you don't do what I say."
To back up the claim this incident was racially motivated, another running group, November Project Boston, made a social media post about their own cheer zone up at Mile 18. Out of the thousands of spectators jumping on the course and running alongside the runners, "the only group that saw a massive police presence as a result was a group of predominantly Black and brown spectators," they wrote.
Reasonably, large events like this will cause for reinforcement of certain safety regulations. However, it is odd that out of all the cheer zones, the cops pulled up to our cookout.