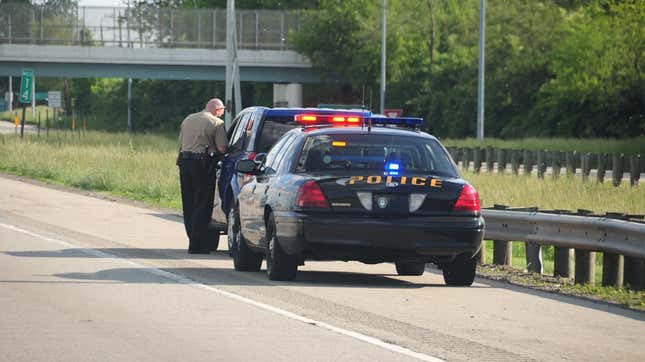 Nearly 30 members of the Congressional Black Caucus (CBC) are encouraging the Department of Transportation to denounce the "unjust and discriminatory status quo" of traffic enforcement. They are also requesting reform to reduce traffic stops that are driven by racial bias.
Small Town Horror Story: The Racist Attack Of A FedEx Worker
In a letter directly addressing Transportation Secretary Pete Buttigieg, 27 members of the CBC, including Democratic Reps. Cori Bush (Mo.), Ayanna Pressley (Mass.), Jamaal Bowman (N.Y.) and Ilhan Omar (Minn.), said they have a "grave concern for the wellbeing of Black drivers."
The lawmakers stated:
"On our nation's roads and highways, Black motorists have experienced disproportionate scrutiny and excessive force under the guise of traffic enforcement. As Secretary of the United States Department of Transportation (DOT), we urge you to condemn the status quo of traffic enforcement and develop reforms to reduce racial inequities in traffic stops."
Every year, the Bureau of Justice Statistics reported that more than 20 million people are pulled over for traffic violations. Even though Black folks are less likely to have access to a vehicle, they are more likely to be stopped than their white peers. The lawmakers say this is because officers frequently choose to enforce traffic laws against Black drivers over white ones.
"For example, the use of racial profiling causes Black drivers to be intentionally stopped for minor traffic violations as pretexts for police to question them and search their vehicles in hopes of discovering contraband....Instead, racist traffic enforcement stigmatizes Black people and undermines DOT's focus on transit equity."
In 2022, more than 175 people were killed by cops after they were stopped for traffic violations. The lawmakers noted how traffic stops can often mean death for Black folks: "Historians have traced the roots of policing Black mobility and physical freedom to our nation's legacy of slavery and bondage of Black bodies.
"It is critical that the Department of Transportation recognizes the social context of traffic enforcement disparities and identifies solutions to redress the harms," the letter said. In addition, the CBC noted that one solution is to use direct funds from the 2021 Bipartisan Infrastructure Law to create reforms like eradicating financial barriers to vehicle registration and upgrading traffic lights.