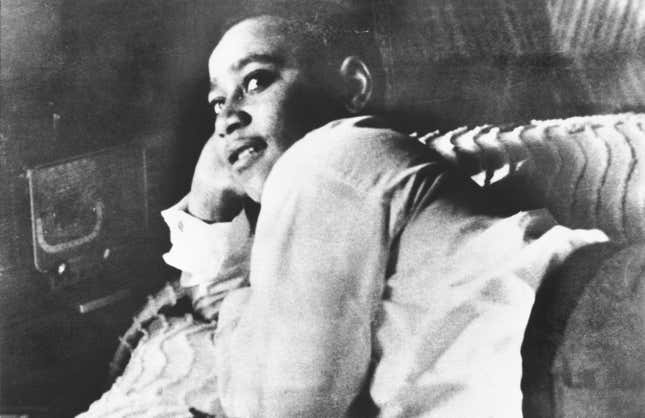 Updated 07/25/2023 at 1:35 p.m. ET 

The civil rights movement often feels like a bygone era. But on what should have been Emmett Till's 82nd birthday, the past feels closer than ever.
Small Town Horror Story: The Lynching of James Byrd
On Tuesday, President Joe Biden announced that he was erecting National Monuments dedicated to Till and his fearless mother, Mamie Till Mobley. "Today, on what would have been Emmett's 82nd birthday, we add another chapter to the story of remembrance and healing," said Biden.
Till was born in Chicago, IL., in 1941. While visiting his cousins in rural Mississippi, he was abducted by two white men, Roy Bryant and J.W. Milam. Bryant and Milam kidnapped, tortured, and eventually murdered Till, who was only 14 years old. His two killers were both acquitted by an all-white jury.
The world might not have heard of Till if it weren't for what happened next. In 1955, Till-Mobley held an open-casket funeral for her son, allowing the world to see what had been done to her child. The photos from the funeral sparked a national outcry and served as a watershed moment in the civil rights movement. Till-Mobley continued to fight for civil rights as a movement leader and speaker until her death in 2003.
Biden, who has known his share of family tragedy, spoke about the bravery it took for Till-Mobley to share her grief with the world. "Insisting on an open casket for her murdered... and maimed and mutilated son, 14 years old, she said let the world see what I've seen," he said. "The country saw, and the world saw, not just heard, the story of Emmett Till and his mother as a story of a family's promise and loss and the nation's reckoning with hate, violence, and racism, and the overwhelming abuse of power."
His words feel especially poignant as we continue to grapple with the deaths of countless Black Americans at the hands of law enforcement.
The National Parks Conservation Association, which lobbied for the creation of the monuments, commended the Biden administration for their decision.
"Throughout American history, there are few stories as heart-wrenching as the murder of Emmett Till. It is a story that lays bare the brutality of systemic racism and injustice for the world to see," said NPCA President and CEO Theresa Pierno. "We commend the Biden administration on today's national park designation and are grateful to Emmett Till's family members for their tireless work to make this national park site a reality."
As for the monuments themselves, they'll be erected in three locations in Illinois and Mississippi. Notably, one of the monuments will be at the Roberts Temple Church of God in Christ in Chicago, where thousands of mourners gathered to bear witness to his death.
Two decades after Till-Mobley's passing, her story and her son's story have picked-up new life. Late last year, Congress awarded them each a congressional gold medal. In May, Till-Mobley's alma matter erected a statue of the late civil rights activist outside of Chicago. And last year, Director Chinonye Chukwu unveiled a film centering Till-Mobley.
As the nation grapples with efforts to white-wash history, a monument dedicated to a victim of a racist hate crime and a woman who refused to let the ugliness of racism be ignored feels especially poignant.