While we all wait for the Cleveland Cavaliers to beat the Boston Celtics so the real matchup between the Cavs and the Golden State Warriors for NBA supremacy can begin, the real battle is between Hall of Famers Shaquille O'Neal and his NBA analyst partner Charles Barkley.

A friendly conversation between the two about whether Game 5 was a "must-win" for the Cavaliers, who have a 3-1 lead against the Celtics as they head back to Boston, quickly devolved into a full on fuss fight.
According to Yahoo! Sports, O'Neal pointed out that the Cavaliers don't need to "mess around" in closing out the Celtics, which is a fair point. The Celtics stole Game 3 and were leading Game 4 until Kyrie Irving put the team on his back.
Barkley tried to interject, to which O'Neal shot back, "Chuck, you have no idea what we're talking about because you've only been to the finals once." Ouch. Yahoo! Sports notes that although Barkley had a storied career, he only played for a championship once with his Phoenix Suns, who eventually lost to the Chicago Bulls in the 1993 NBA Finals.
Barkley, who is never one to let any pettiness slide past him, pointed out that Shaq had the assistance of playing with some really great teammates.
G/O Media may get a commission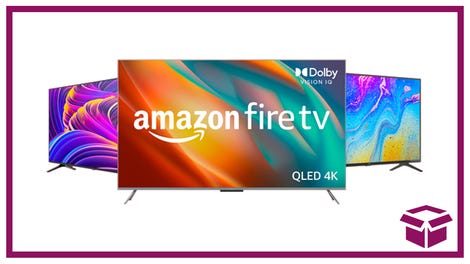 Ooh. stunning.
New Amazon Fire TVs
"I wasn't riding on Dwyane Wade's and Kobe's coattails," Barkley said before adding, "If I had been riding on Kobe's coattails and Dwyane Wade's … and [Heat center] Alonzo Mourning's, too, I forgot about him. And [Lakers forward] Rick Fox. Derek Fisher."
Barkley's point is also true. Shaq did have some pretty stacked teams when the Los Angeles Lakers three-peated from 2000 through 2002 and the Miami Heat squad won it all in 2006, but that doesn't negate his contribution.
Shaq, obviously a man to go lower when they go low, told Barkley, "People question why you're in the Hall of Fame anyway. Bum."

When host Ernie Johnson tried to figure out how things went south so fast, Shaq explained: "Because Chuck's always interrupting. Don't interrupt me, Chuck. I'm going to punch you right in your face one time, I'm telling you."
Barkley noted that he'd "throw one of these chicken wings at [Shaq's] fat ass."
Things got back to normal, but I wonder how long this will last, since I've always felt that there was tension between the two. And let's not forget this encounter when they were both in the league:
Read more at Yahoo! Sports.