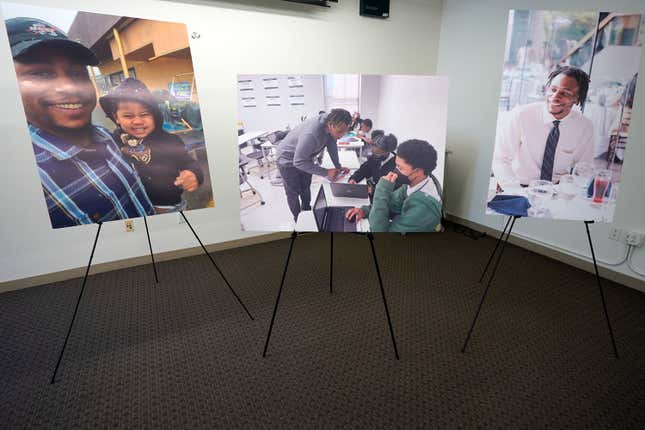 Nearly half a year after Keenan Anderson was shocked repeatedly with a Taser by the LAPD, his cause of death was released... and use of force wasn't it. According to AP News, Anderson died from an enlarged heart and cocaine use but his manner of death remains undetermined.

FX on Hulu's Tupac Docuseries, Dear Mama, Is Our TV Pick This Week
Anderson, cousin of BLM co-founder Patrisse Cullors, was stopped by law enforcement while running from the scene of a car crash in January. When an LAPD officer stopped him, he complied with their commands but appeared agitated. At some point, he explained to the officers that he thought someone was after him. The body camera footage shows him sitting down and asking the officer not to shoot him.
Suddenly, the video shows him running across the street and encountering a group of LAPD officers who tackle him to the ground to arrest him. As he tried to wiggle from their grip, he was shocked with multiple Tasers up to six times, authorities said.
Anderson went into cardiac arrest and died an hour later at the hospital. His family and supporters believed his cause of death was from the shocks of the stun guns. However, the autopsy results tell a different story but also leave some questions.
Read more from the Los Angeles County Medical Examiner-Coroner:
The Los Angeles County Department of Medical Examiner-Coroner determined the cause of death for 31-year-old Keenan Darnell Anderson as effects of cardiomyopathy (enlarged heart) and cocaine use (death determined hours after restraint and conducted energy device [CED] use); the manner of death is undetermined.

External analysis of the discharged CED revealed probes were deployed without skin impact and that trigger activations were discharged to Mr. Anderson's back via drive-stun application. Minutes after being subdued, Mr. Anderson was treated by responding fire department personnel, where he became unconscious with labored breathing.
Anderson was the third Black person to die following an encounter with the LAPD at the beginning of the year, sparking protests against the police department. The fact that Anderson was related to the co-founder of a movement against police brutality made the incident even more troublesome to many peopel.
Lawyers for his 5-year-old son filed a $50 million claim against the city of Los Angeles alleging unreasonable use of deadly force and the violation of Anderson's constitutional rights, the report says.
"An unarmed Black man, in obvious mental distress was savagely attacked and repeatedly tased, in clear violation of LAPD policy, by several trained officers, and the innocent life of a little five-year-old boy will be forever changed as a result," said attorney Carl Douglas via NPR.