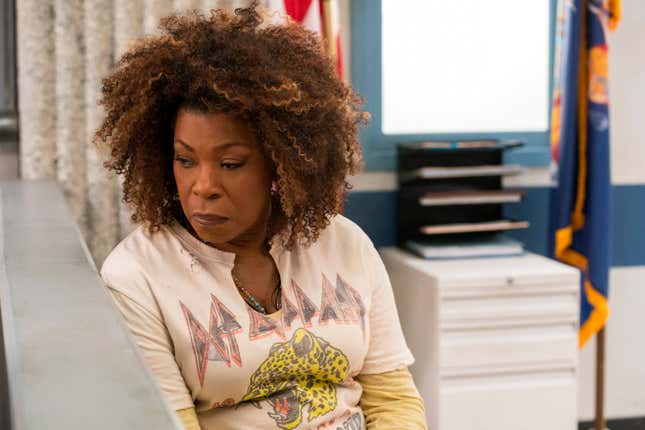 Trigger Warning: This article contains references to domestic violence.
CBS' popular action-drama The Equalizer is known for weaving real-world issues into Robyn's cases. In the new episode "No Way Out,"—airing Sunday, April 23 at 8 p.m. on CBS—things take an emotional turn as Aunt Vi discovers her masseuse is a domestic abuse victim. In an exclusive clip from the episode, in order to give her friend the strength to escape her abusive husband, Vi reveals a difficult truth about her own past. Series star Lorraine Toussaint spoke to The Root about exploring more aspects of Viola's past.
"There isn't a whole lot that she hasn't experienced, the good, the bad and the ugly. So there are moments when you will be able to reach into Vi and pull up moments like we did in this domestic abuse episode, where she's able to speak very personally about this," Toussaint told The Root. "She becomes an advocate in this episode. She recognizes herself, she recognizes the need to not just come to this woman's rescue, but to offer a hand to this woman because she knows how difficult and isolating abusive relationships can be and how much they depend on silence, shame and isolation. It often isn't easy for a woman to break those codes of silence. I love that she's got all this stuff going on inside."
Jonathan Majors Is The First Black Aviator In Devotion–Our TV Pick This Week
Season 3 of The Equalizer has allowed viewers to learn more about Vi's past, which is something Toussaint always wanted for her character.
"When we started this adventure three years ago, one of the things that the writers and I talked about is that Vi is a deep well," she said. "She's lived a big life, so the part that you get introduced to early on is really just the tip of the iceberg. As the series unfolds and evolves, you get to see that some of the qualities that our audiences like most about Vi is…by virtue of having lived."
This is a moving and powerful episode with a very important story. But it's also graphic, so if you are a domestic violence victim or survivor, you may want someone else to watch it first and let you know if you should check it out.
The Equalizer airs Sundays at 8 p.m. on CBS and is available on Paramount+.