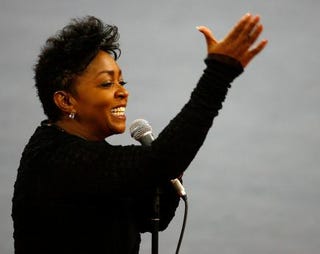 The arrest warrant issued for singer Anita Baker was lifted by a judge during an emergency hearing in Wayne County Circuit Court on Monday, the Detroit Free Press reports.  
"We asked for the emergency hearing because the court had issued a bench warrant for Ms. Baker's arrest," said Jamal Hamood, a lawyer representing Baker in the case. "That was the first time Ms. Baker had heard of the lawsuit that had been filed against her in 2011."
Hamood said that the Grammy Award-winning singer wasn't served with the lawsuit and was not aware until last week that there was a default judgment in the civil case.
The bench warrant was issued after Baker failed to appear at a creditor's examination last September, the Free Press reports.
Attorney Dan Gerow, who is representing Ray A. Smith Painting & Decorating, says that the singer failed to pay $15,351.41 for carpentry, plastering and painting done on her Grosse Pointe home in 2009.
"She was served," Gerow said. "That's our position … and the default judgment was properly entered by the court."
Baker's attorney contends that the singer doesn't owe the contractors any more money and that she might even have overpaid, "given the quality of work that was provided."
Gerow countered that his client "did quality work" and was upset with the allegation, the Free Press reports.
According to the Free Press, a hearing is scheduled for 9 a.m. April 4 to determine whether the default judgment issued in the case last year will be set aside.
Read more at the Detroit Free Press.