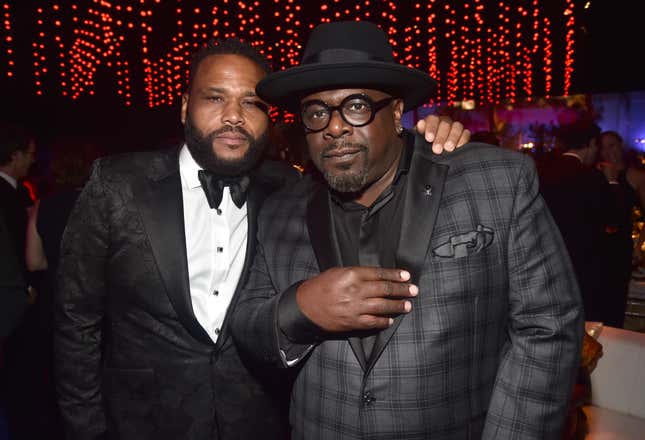 Two of TV's funniest stars are coming together to celebrate something we can all get excited about: BBQ! Anthony Anderson and Cedric The Entertainer are launching their own food brand, AC Barbeque.
Hav & Mar And Red Rooster's Chef Marcus Samuelsson Plays That's So Random
Anyone who considers themselves a barbeque connoisseur knows that the best pitmasters and cooks treat their sauce and meat like art. Barbeque is not like any other food, it requires commitment and dedication to get everything right. Per a press release provided to The Root, to show how serious they're taking this venture, Anthony and Cedric are traveling the country "on a culinary adventure to discover the best techniques, flavors, and traditions for mouthwatering barbeque." Their journey will be filmed for the new A&E series Kings of BBQ.
The show is set to follow the duo as they get advice and tips from top barbeque chefs and experts. They will also focus on "highlighting Black Excellence in the industry," which is great to hear since barbeque is such an essential part of Black cuisine. It's the foundation for many of our best flavors.
"Anthony and I are very excited to take our audience into the savory, smokehouse-filled, finger licking world of barbeque all across the United States," Cedric The Entertainer said in a statement. "In collaboration with A&E, we created the Kings of BBQ series as a perfect way to share our new business venture, AC Barbeque, with all of you."
The thing about barbeque is that it varies from place to place. Texas barbeque tastes completely different from Kansas City or Memphis barbeque. They all have their own distinct flavors and cooking styles. This will provide Anthony and Cedric with endless chances to really explore the various elements of barbeque.
"I'm thrilled to partner with A&E on this series to honor the traditions and flavors of barbeque that have been a big part of my life for as long as I can remember," Anderson said in a statement. "The launch of AC Barbeque has been a lifelong dream for Cedric and I and we cannot wait to learn more about the craft and share our journey."
I really need to see them go to an elite barbeque competition, so they can stay up all night cooking alongside the competitors. That episode alone will make this the funniest food show on TV.