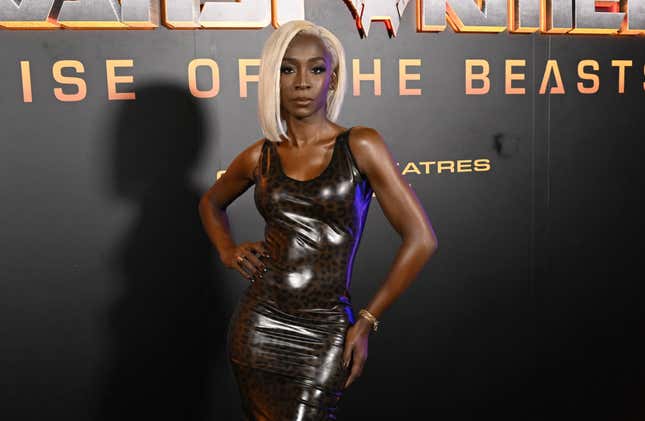 The ongoing WGA and SAG-AFTRA strikes have revealed a lot of dirty laundry about the shady inner workings of Hollywood. For fans of Black and LGBTQ+ artists, it's been particularly eye opening to see how much discrimination and disrespect their favorites still deal with every day. On Monday, actress Angelica Ross detailed her frustrating experiences.

Wanda Sykes' New Stand-Up & Beat Shazam Without Jaime Foxx– Our TV Picks This Week
While discussing a scene in the new Hulu drama The Other Black Girl, the Pose star dropped a series of tweets revealing that writer/producer Ryan Murphy ghosted her over a planned American Horror Story Season 11 collaboration, which in turn cost her a role in the Marvel Cinematic Universe. Ross released a screenshot of a July 2020 email from Murphy reading, "Remember your idea about a Horror season starring Black women? Well I'm doing it. Not sure of the idea yet, but we will start a writers room in the fall."
The American Crime Story producer went on to ask the actress about casting, writing, "Along with you, who are the four women I should get? I think you, Keke Palmer, Gabby [Sidibe]...not sure for the fourth?"

She then relayed that in February 2022, she asked to be involved "on the producing side" of the planned AHS Season 11 writing, "I could add a lot to the table in the overall storyline if we are still looking to do a Black lead cast." She was in "first position" with FX, meaning she couldn't take another role until she was released from her contractual obligation to American Horror Story.
"After not hearing back. After sending flowers and no response I sent one last email in Feb 2022 (it took about a year to film season 10 due to COVID) while still contractually in first position with the show," Ross wrote. "Mind you, marvel had called twice now. I haven't heard from him since."
There are much bigger issues at play here, but Ms. Angelica's plans for Season 11 totally sound better than the NYC story that was aired. It revolved around a serial killer stalking the city in the '80s as gay men were killed by the AIDS virus. A season centered around a cast of badass Black women would have reinvigorated the long-running, somewhat tired, franchise.
The actress previously appeared in AHS: 1984 (Season 9) and AHS: Double Feature (Season 10). In July 2023, Ross explained in a since deleted Instagram post that when FX did eventually release her from her contract, Marvel had moved on.
"I was under a 7 year contract with FX in what they call 'first position'. As a series regular, I could not work anywhere else without getting network approval," she wrote. "While working on AHS season 10 I was told I would be returning to Season 11 and was put on hold for several months. During this time Marvel called a few times asking about my availability. By the time FX released me, Marvel stopped calling. Now it's been years since I have had an acting job. This is also why we are striking."
I don't know what MCU role Ross was being considered for, but it would've been so impactful to see a Black transgender woman in the biggest, most influential movie franchise in the world. Plus, she's such a captivating, intriguing actress. Whether she's playing a hero or villain, she'd be a scene stealer. I really hope Marvel comes back to her as it gears up for Phase 6.
As she expressed her frustration with the situation, she reiterated that this isn't about the show, it's about basic decency and professionalism.
"It's not JUST that the idea changed. Things change all the time," she wrote. "It's that I called business affairs for MONTHS trying to get clarity if they were picking up my contract option or if I was ok to tell Marvel that I was available for whatever they were calling me for. I had been auditioning for THREE YEARS for marvel. It's that I was HELD in first position the whole time."
Ryan Murphy knows exactly what it would've meant to have Angelica Ross in the MCU. If he's really the ally he claims to be, he would have responded to her at some point in the two years this was going on and simply let her know they were doing a different story and she was free to take the Marvel role. He just didn't care enough to show her the professional respect and courtesy of a response. As usual, you cannot believe what these people say when the lights and cameras are on. It's really about how they act when they think no one is watching.