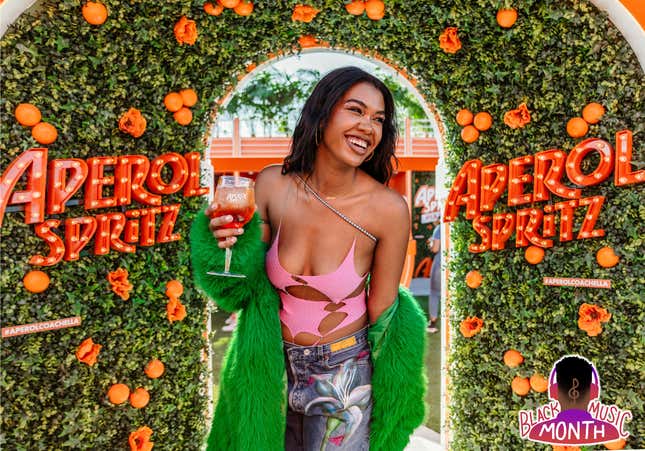 Priding itself as "New York's biggest party," this upcoming weekend, the Governors Ball Music Festival is set to descend upon Flushing Meadows Corona Park in Queens for what promises to be one of the most memorable concert experiences of the year. And while it boasts dozens of artists—including Kendrick Lamar, Lizzo, and just about everyone else firmly entrenched in our AirPods and favorite playlists—across three stages, a party ain't a party unless rising R&B star Amber Mark comes through—so of course, she'll be blessing the stage with "Worth It", "Lose My Cool", and other hits from her stash on Saturday.

Amazon Prime Video's Harlem Star, Meagan Good, Plays That's So Random
But before doing damage in Queens, the genre-bending songstress chopped it up with The Root for Black Music Month to discuss her ever-expanding sound, other avenues she'd like to explore creatively, and her fruitful partnership with Aperol.
This interview has been edited and condensed for clarity.
You have such a diverse sound that I can't help but wonder who your inspirations are creatively. And which of your peers (if any) inspire you with their own work?
I would say some big inspirations for me—Sade's a huge one. Ella Fitzgerald got me singing. But in terms of my sound when I was starting out, I really wanted to get into melding certain sounds together that I got from my childhood. I used to live in India when I was a kid for about four years and there was an artist there—he was actually German—who did his own take on classical Indian music and his name is Prem Joshua. He's somebody that was a huge inspiration for me when I was just starting out making music. And now I think Jai Paul is a huge one, Stevie Wonder is a big one, Gabriel Garzon Montano, Nick Hakim, those are some big ones for me. John The Blind is a huge one for me and Sherwyn as well. Those are just a few; there are so many more. I feel like I'm constantly getting inspiration everywhere I look, every sound I hear, so the list goes on.
Black creatives often feel as though their art is put in a box. How do you continue to thrive despite facing those challenges?
I definitely feel like I get put in a box. And sometimes, I feel like I put myself in a box just based on the response I get from certain—just things you see on social media. It can be a little frustrating at times. I try to think outside the box in a way, but I think my music obviously has R&B accents, soul accents, and funk accents. It goes down the house direction too, but I feel like the majority of music is Black music. [Black music] created a lot of the genres that are popular today, or they've stemmed from a lot of genres that were created by our people. So it's kind of hard to say how I've been able to thrive despite those same challenges, but I feel like I'm just really trying to be myself and just tell my story. Sonically and lyrically, I just try to keep that mentality. Sometimes it's hard. Sometimes you do start thinking about how people are responding to your music and how they're taking it in. "Oh, she sounds just like this artist" or "She's trying to be this artist" or whatever. Those types of comments get to me sometimes, but I definitely try to just stay true to myself and make things that make me feel good.
Outside of music, what other avenues are you eager to explore creatively?
I really like anything food related. I'm really into baking, so I feel like I'll go in that direction a little bit. Music's kind of my main source of creativity. In terms of hobbies, I'm really into astronomy. Not astrology, not the Zodiac signs. Cosmology, talking about the stars and looking into different theories within physics and quantum physics. I just find that there's a really beautiful connection between that whole world and spirituality. It just gives me this very beautiful and unique sense of wonder. I definitely try to tap into that world as much as I can, just thinking about who we are, what we are, and all those things. Just going into that world is very inspiring for me when making music as well. So I think I try to tap into that as much as I possibly can.
How did your Aperol partnership come about and how have they contributed to the success of your career?
My ongoing partnership with Aperol means so much to me. As you may know, we have similar roots in Italian culture. That heritage is something that ties us together. Biologically, I'm not Italian, I'm German and Jamaican, but I was raised by an Italian family and we would go to Italy every Summer when I was a kid to the Amalfi Coast so I grew up hearing and seeing about Aperol Spritzes. Since then, it has become one of my favorite drinks, so it was a very easy decision to work with them. We were first connected a little over a year ago and the team and I instantly clicked. It's been an amazing journey with them, they're so joyful in their spirit and it really resonates with me and the type of feeling I want to convey to my fans through my work. They're just super generous and kind and ready and willing to work with me whenever they can, so I try to involve them as much as I possibly can. Aperol Spritz just reminds me of Summer and vacationing in Italy. It's the best!