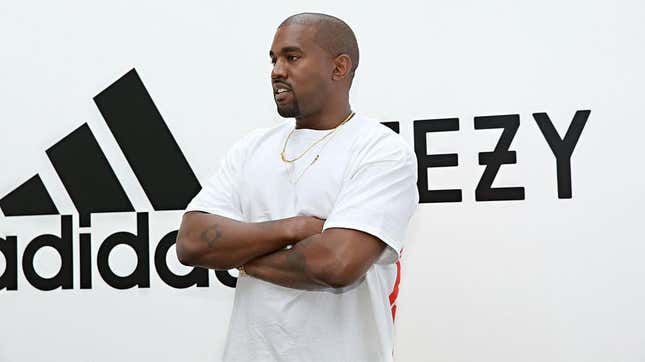 Have you been wondering where all those unsold Yeezy Adidas sneakers have been sitting for the last seven months since Kanye West was dropped from the German shoe company? They've been in some abandoned warehouse.
How To Keep Your Sneakers Clean Without Breaking The Bank
But, after months of sitting on nearly $1.3 billion worth of Yeezy sneakers, Adidas will sell the remaining shoes and donate the money to organizations and groups that were hurt by Ye's antisemitic comments over the past year, according to The Associated Press.
CEO Bjorn Gulden announced the company's plans at their annual shareholding meeting and said that they considered a plethora of solutions, including giving away the sneakers for free or burning the shoes, but found that selling the sneakers and giving the money to charity would be the best option.
But, although this plan has the intention of righting the wrongs of Kanye West over the last year because of his antisemitic behavior, he will still likely receive royalties from the selling of the shoes, since they were made under his name.
Why not give away the shoes for free?
I think in theory, that sounds like the best option. Adidas can get rid of its Yeezy stock, millions of people will get free sneakers and Kanye won't get a big paycheck. Everyone wins (except Kanye).
But, the problem with giving away millions of sneakers for free is that resellers on the secondary market will likely get their hands on them. This will lead to people paying an extremely high markup, which will likely be two to three times the price compared if they were to buy it directly from Adidas. So that's not a good option.
Why not destroy the shoes?
That would be a perfect way to symbolize Adidas' relationship with Kanye. To represent the company officially breaking ties with Ye, they destroy the sneakers that they helped produce with him.
But, that also feels like a waste.
Believe it or not, I think giving money to charity is the best option. But, the problem is that huge companies like Adidas are often not transparent about where the money will be going. All Gulden said during the shareholders meeting is that they will "donate money to the organizations that help us and were harmed by what Ye said," according to The Associated Press.
Not exactly the most specific description of where the money will be going.
As a result, I won't feel comfortable with the company's decision until they specify who will be receiving the proceeds from their sales.