An academic scandal at the storied Notre Dame football team will put the team on probation; the team must also forfeit wins from the 2012 and 2013 seasons.
According to WNDU, the trouble started after the university investigated claims that a student athletic adviser committed academic violations for several players, including giving six players prohibited academic extras.
The university told the NCAA of suspected violations, and the NCAA investigation found that the adviser committed academic misconduct. The Fighting Irish will face a year's probation, and every win from the 2012 and 2013 seasons will be vacated. The news station notes that Notre Dame won 12 games in 2012 and lost to Alabama in the BCS National Championship game.
The student trainer has been dismissed from the program. The university released a statement shortly before the NCAA's ruling was made public.
"It's never happened before in the history of the NCAA. A penalty has never been issued in this fashion before," Notre Dame coach Brian Kelly said Tuesday in response to the scandal. "First of all, it was discretionary; this was a discretionary action by the committee. That's No. 1. No. 2, it was student-on-student cheating. There was nobody implicated. The NCAA agreed across the board with that finding, and it was clearly excessive. So as you know, we're going to appeal this."
G/O Media may get a commission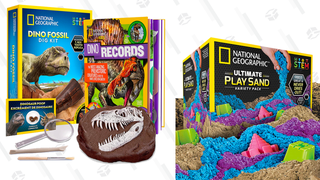 Up to 33% off
National Geographic Science and Activity Kits
Kelly was asked if he would be with the team next year.
"I have no reason to believe that I'm not. I think you guys are confusing this statement with the win-loss record. A win-loss record is always under scrutiny at Notre Dame, and it should be," Kelly answered.
"That's part of it," he continued. "But this matter here has been a long-standing matter that the university has handled, handled in a positive way relative to how we handled it internally. Every support-staff member has represented Notre Dame in a positive way. Today's statement should be a validation that my collateral responsibilities at Notre Dame as the head coach are outstanding. However, 'He's gotta win more football games!' And so that hasn't changed; we're still 4-7. So if you want me to answer the question on 4-7, I think every football coach who's 4-7 has gotta win more football games."
Read more at WNDU.