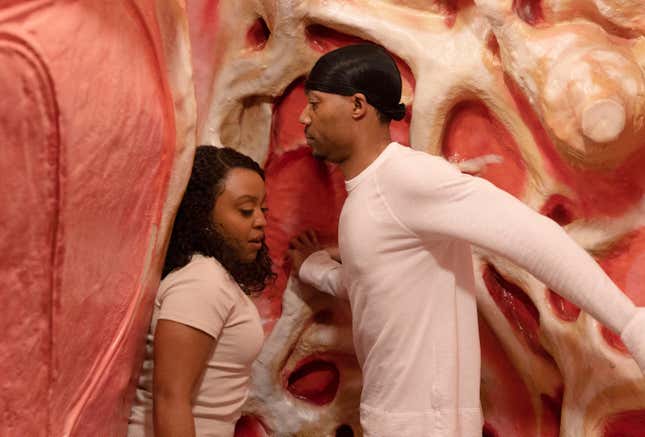 There's a saying in Hollywood: "It all starts with an idea." That means nothing gets made until someone comes up with the story and puts it on the page. As the Writers Guild of America continues its fight for a fair deal for film and TV writers, we know some fans are less concerned with negotiations and more interested in how this situation affects their favorite entertainment.

Voting Rights Advocate, Stacey Abrams, Plays That's So Random
In the immediate future, audiences will notice changes in late-night TV. Jimmy Fallon; Stephen Colbert; Seth Meyers; John Oliver; Jimmy Kimmel; and The Daily Show have all had their shows go dark in solidarity, while Saturday Night Live ended its season early, choosing not to produce its final three episodes. For soap opera fans, they may notice a halt in production sometime around mid-June, as most daytime dramas shoot several weeks in advance. Where your favorite primetime series are concerned you may see premiere delays or less new episodes. In the case of streaming and cable networks, they might decide to adjust the release dates of upcoming projects, so they can stretch out new properties for the duration of the strike. There are a lot of behind-the-scenes decisions being made right now, so we're taking a look at how the WGA writers' strike will affect a few of your favorite TV series.
Abbott Elementary
The Emmy-winning hit's Season 3 writers' room has closed, which means not only will the next season be delayed, fans could see fewer fresh outings. Writer Brittani Nichols told Democracy NOW! how the strike could impact Season 3 of Abbott.
"We are a show that writes while we air," Nichols said. "If this strike goes on for a significant period of time, our show will not come out on time and that could change the amount of episodes which I'm sure people will be very upset about."
P-Valley
We already knew it was going to be a long wait for Season 3 of the Starz hit, but now we have confirmation that the wait will get longer. On Wednesday, creator/showrunner Katori Hall tweeted, "Despite rumors, due to the #WGA #WritersStrike filming on #PValley has been postponed. Like many of my fellow showrunners, I feel as though my writing & producing duties are inextricably linked. We will not be filming until a fair deal is reached."
Starz will also see delays for Power Book III: Raising Kanan and its upcoming Ava DuVernay drama starring Lauren Ridloff and Joshua Jackson, as both have shut down production.
Andor
The Disney+ Star Wars drama was already in production on Season 2 when the strike started, so at this point, it's unclear exactly how the season will be affected. Showrunner Tony Gilroy continued working on the series in a non-writing capacity, but after receiving criticism, he announced on Tuesday that he would stop working on the show completely.
"I discontinued ALL writing and writing-related work on ANDOR prior to midnight, May 1. After being briefed on the Saturday showrunner meeting, I informed Chris Keyser at the WGA on Sunday morning that I would also be ceasing ALL non-writing producing functions," Gilroy told Variety.
It's no secret that it takes an army to produce these types of shows, but without Gilroy's leadership, there could be changes in the tone or visual style. Of course, Star Wars is also a giant franchise with a long history, so we have to assume Lucasfilm will keep things rolling in the right direction.
Stranger Things
Over in the Upside Down, Stranger Things creators Matt and Ross Duffer tweeted that the show's final season has paused production due to the strike.
"Duffers here. Writing does not stop when filming begins," they wrote. "While we're excited to start production with our amazing cast and crew, it is not possible during this strike. We hope a fair deal is reached soon so we can all get back to work. Until then—over and out."
Stranger Things is Netflix's most popular series, so this is a huge blow for the network and the show's devoted fans. The streaming giant's Cobra Kai has also closed the writer's room for Season 6 production, though it looks like the series will try to continue on without them for the moment.
House of the Dragon/A Knight of the Seven Kingdoms: The Hedge Knight
George R.R. Martin, the creator of the A Song of Ice and Fire universe, has shown his support for the strike. On his blog, the author wrote, "The writers' strike is on. No one wanted this—no writer with an ounce of sense, anyway—but the producers and the studios and the networks and the streamers gave us no choice. The Guild negotiated right up to the final deadline on May 1, but it takes two to tango."
While giving updates on his projects, Martin revealed that the writers room for the Game of Thrones prequel, A Knight of the Seven Kingdoms: The Hedge Knight, has been closed until the strike is over. He also said that Season 2 of House of the Dragon is currently in production in London and Wales, and will continue.
"The scripts for the eight s2 episodes were all finished months ago, long before the strike began," he wrote. "Every episode has gone through four or five drafts and numerous rounds of revisions, to address HBO notes, my notes, budget concerns, etc. There will be no further revisions. The writers have done their jobs; the rest is in the hands of the directors, cast and crew… and of course the dragons)."
Blade
Over on the movie side, the MCU's embattled vampire feature Blade has taken another hit, as Marvel Studios has stopped pre-production on the film. It's currently scheduled for release on September 6, 2024, but who knows if it will make that date now.
These are just a handful of the projects currently affected by the writers' strike. If you have a film or TV series favorite that is in active production or pre-production, you should probably prepare yourself to wait a while for the finished product.