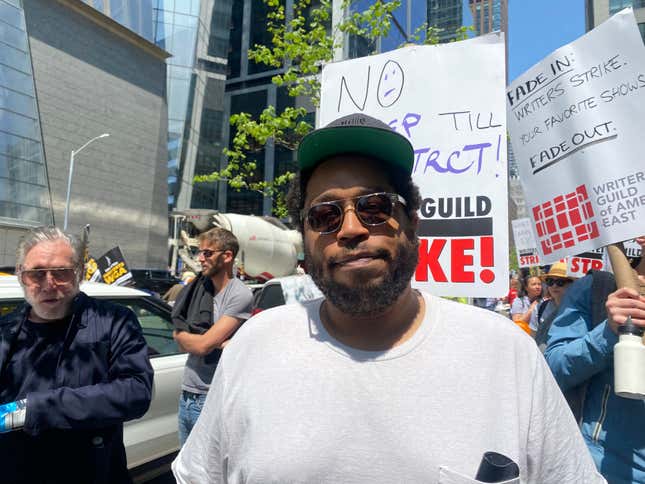 It's week two of the Hollywood writers' strike and it shows no signs of ending anytime soon. It could be months before we see a resolution, after contract negotiations fell apart last week. On Wednesday, WGA members and their supporters picketed outside of HBO and Amazon's studios demanding a fair contract.
A Black Lady Sketch Show Is Our Black TV Pick of the Week
It was a lively scene outside of the two major studio houses. The sound of trombones from a band cheering on the strikers echoed through the crowd as people grabbed bagels and picket signs. But despite, the festive atmosphere, the Black writers who spoke to The Root were clear they were there for a fight.
"The existence of the profession is at stake right now." says John Mahone, 36. "We're to take a stand. We're here to make sure that not only we can survive, but future generations of writers can survive."
Mahone, who recently wrote on the HBO series Our Flag Means Death, says he doesn't see the strike ending anytime soon. "We're in this for the long haul," says Mahone. "They don't seem close, so we're expecting this to last for months. I think it will end in July if we're lucky."
Other Black writers at the picket-line shared similar sentiments. "This is not a sprint, this is a marathon, this is not for the faint of heart" says Erika Green Swafford, 50. "Power does not concede easily. And so it's going to take effort, over and over and over again."
Swafford, an award winning writer who's worked on hit shows like How To Get Away with Murder, says she will keep striking to protect the rights of the writers coming after her. "I'm out here because I was born Black and as a Black person, that's the first union you sign up for, collective struggle. I am now able to join a union because of my forefathers," she says. "We're paying it forward. We're making sure that the people who come after us are able to make a living."
Negotiations with the major networks don't appear to be improving. The Alliance of Motion Picture and Television Producers has drawn a line in the sand on a number of issues the WGA wants included in the new contract. However, the AMPTP says they're committed to reaching a compromise.
"The AMPTP member companies remain united in their desire to reach a deal that is mutually beneficial to writers and the health and longevity of the industry, and to avoid hardship to the thousands of employees who depend upon the industry for their livelihoods," the AMPTP said in a statement last week.
Ashton Womack, 32, a writer for the Daily Show, says he's got money saved up for a rainy day, and he has no plans to back down now. "I'm here for the long haul, I'm here for a fight," says Womack. "Whatever they're dishing out I'm dishing out, we're dishing out right back together."