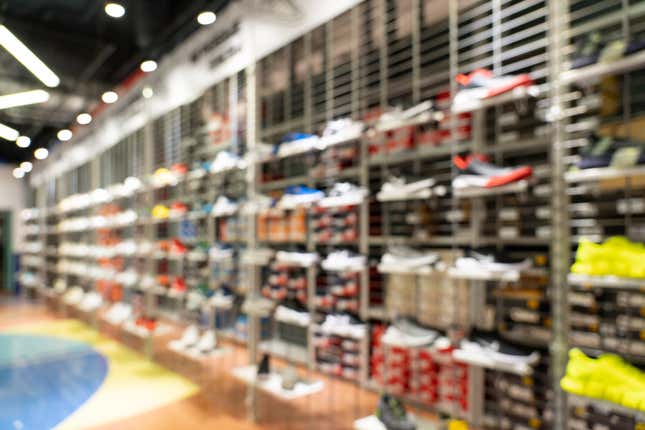 Even after Adidas' very public breakup with Ye, sales of Yeezys are still going strong. This week, the company is dropping previously unreleased Yeezy sneakers and slides. But one major retailer is having none of it. According to a report from Complex, sportswear and footwear retailer Foot Locker is taking a stand against the controversial artist and says it won't be stocking their shelves with Yeezys.
Kanye West Needs To Stop Bullying Black Women
Adidas ended its partnership with Ye in late 2022 in the wake of a series of anti semitic comments he made in the media, including a despicable tweet in which he said he would go "death con 3 ON JEWISH PEOPLE."
Left with a slew of unsold Yeezys and a difficult decision, the German sportswear brand chose to sell the remaining pairs and donate a portion of the sales to anti-hate groups, including the Anti-Defamation League, the Philonise & Keeta Floyd Institute for Social Change. The company's deal with Ye made Adidas the sole owner of all design rights to existing Yeezy products, along with both prior and new colorways.
And the decision turned out to be profitable. A May 2023 online only drop resulted in Adidas selling four million pairs, with orders totaling $565 million.
But even in light of those figures, Foot Locker wanted nothing to do with it, fearing the backlash it might face being associated with the artist formerly known as Kanye West.
"Foot Locker, Inc. does not tolerate any form of antisemitism or hateful and discriminatory behavior," a company spokesperson said back in 2022. "While we remain a partner with Adidas and carry a wide assortment of their collections, we will not be supporting any future Yeezy product drops, and we have instructed our retail operators to pull any existing product from our shelves and digital sites.
As of this writing, Foot Locker has not released a statement related to the latest drop. But it seems like they're sticking to their word. Meanwhile, both Snipes and Finish Line have them in stock.