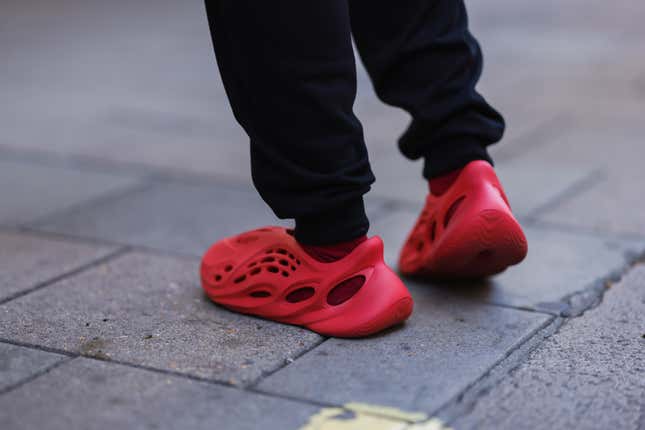 Ye may have thought he had the upper hand in his partnership with Adidas. But after severing ties with the controversial rapper in 2022 over his controversial behavior, it looks like the German sportswear company is having the last laugh. After predicting an operating loss, sales of Yeezy sneakers remain strong and seem to be keeping the struggling brand afloat.
Kanye West Needs To Stop Bullying Black Women
Where did it all go wrong?
In case you were trying to forget, the drama started when the "Jesus Walks" rapper took his crazy to a whole new level, wearing a "White Lives Matter" t-shirt to a Yeezy show in Paris in 2022. He even doubled down after receiving well-deserved backlash with an Instagram post writing, "Everyone knows that/Black Lives Matter was a scam/Now it's over/You're welcome."
If that wasn't bad enough, Ye kept the hate train rolling, making antisemitic remarks on social media and in interviews, including the now infamous tweet saying he would go "death con 3 ON JEWISH PEOPLE."
He even seemed to dare his Yeezy partners to do something about his behavior on an October 2022 episode of Drink Champs, saying, "I can say antisemitic things, and Adidas can't drop me. Now what? Now what?"
But that may have been the last straw. In an October 2022 press release, Adidas openly condemned Ye's statements:
"Adidas does not tolerate antisemitism and any other sort of hate speech. Ye's recent comments and actions have been unacceptable, hateful and dangerous, and they violate the company's values of diversity and inclusion, mutual respect and fairness. After a thorough review, the company has taken the decision to terminate the partnership with Ye immediately, end production of Yeezy branded products and stop all payments to Ye and his companies. Adidas will stop the Adidas Yeezy business with immediate effect."
In spite of the controversy, sales remain strong
Adidas expected its decision to break up with Ye to hit them in the pocket, predicting "a short-term negative impact of up to €250 million ($246 million) on the company's net income in 2022."
But rather than throwing out the leftover pairs of Yeezys, Adidas decided to sell them – a decision that has turned out to be profitable for the struggling brand. Fans jumped at the chance to scoop up a May release of remaining inventory. According to the Financial Times, Adidas sold four million pairs exclusively online, with orders totaling $565 million.
Thanks to the strong sales, Adidas reported that it expects a full-year operating loss of $499 million (€450 million), which is down from the $772 million (€700 million) it previously predicted.
The company plans to release a second batch of Yeezy's this month, including some of its most popular designs Yeezy Boost 350 V2, 500 and 700 as well as the Yeezy Slide and Foam RNR. Adidas is the sole owner of all design rights to existing Yeezy products as well as both prior and new colorways under the partnership.
Whether fans are willing to forgive Ye for his bad behavior or just love the shoes more than the man, it doesn't look they plan to stop buying Yeezys anytime soon.
"There's a cachet attached to wearing those shoes and I think that has outpaced whatever disappointment consumers had with Kanye West's commentary," Tom Nikic, an analyst at Wedbush Securities, told Business of Fashion. "Fashion and the quality of the shoes won out."