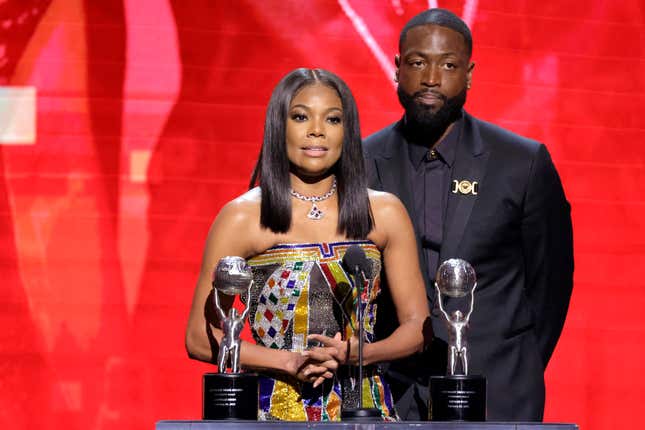 One of entertainment's most outspoken and charitable couples was honored for their good work. On Saturday, at the 54th Annual NAACP Image Awards, Gabrielle Union-Wade and Dwyane Wade were presented with the President's Award" in recognition of special achievement and distinguished public service." Per a press release, "The Wade Family Foundation provides relief to marginalized communities in need, helping to advance racial justice and LGBTQ equality." During his speech, Dwyane expressed his overwhelming admiration for his daughter Zaya Wade.

Gabrielle Union & The Cast of The Perfect Find Define Black Love
"I want to take this moment to publicly speak to our daughter Zaya. As your father, all I've wanted to do is get it right. I've sat back and watch how gracefully you've taken on public scrutiny. And even though it's not easy, I watched you walk out of the house every morning. I admire how you handle the ignorance in our world. I admire that you face every day," the former NBA superstar said. "To say that your village is proud of you is an understatement. Thank you for showing me that there's more than just one way to communicate effectively. You've taught me that communication with my mouth isn't enough. I have to also communicate with my two ears and to use my two eyes. As your father my job isn't to create a version of myself that directs your future. My role is to be a facilitator to your hopes, your wishes, your dreams."
The beauty of that moment is that there are people watching the show who needed to hear that speech from their own parents and didn't get it. Hopefully, hearing Dwyane say that to Zaya allowed them to see that they are not alone and there are people who see them, admire them and respect them. Then Gabrielle followed up her husband's message by making sure they know someone has their back.
Gabrielle Union has never been one to mince words when it comes to speaking truth to power and she didn't let the fancy trappings of an awards show stop her Saturday night. After acknowledging all the influential figures in the room, she turned her attention to the lack of support for the LGBTQ+ community as they find their very existence under attack by discriminatory and cruel legislation. During her acceptance speech, she noted that this is "a new era of activism that demands our collective answer to one simple question. Will we fight for some or we fight for all of our people?"
"Let's just name a couple of hard truths. The intersection of Black rights and the rights of the LGBTQIA, trans and gender non-conforming people continues to be rough," she said. "Even as we demand equality at the top of our lungs, we consistently fail to extend our advocacy to protect some of our most vulnerable among us."
"Black trans people are being targeted and terrorized and hunted in this country, every day, everywhere." Gabrielle continued. " There's barely a whisper. We honestly don't approach this work as activists or leaders, as much as we do this as parents. Parents who love our children and will do whatever the hell we can to keep them seen and secure and safe. This is a conversation worth having in ways that can actually build bridges. That don't fan the flames of hatred or division. That don't enable lawmakers or justice systems to look the other way when Black trans people are under attack. They don't drive our young people to hate themselves or harm themselves. They don't cost people their lives. We are humbled and we are hopeful for the future. We are hopeful that we may witness a real shift in the fight for justice. The moment the movement makes room for everyone."
If I'm being honest, this may have been the most important moment of the night. It's long past time for us to start having these conversations and I love Gabrielle for using her speech to make this issue a priority.