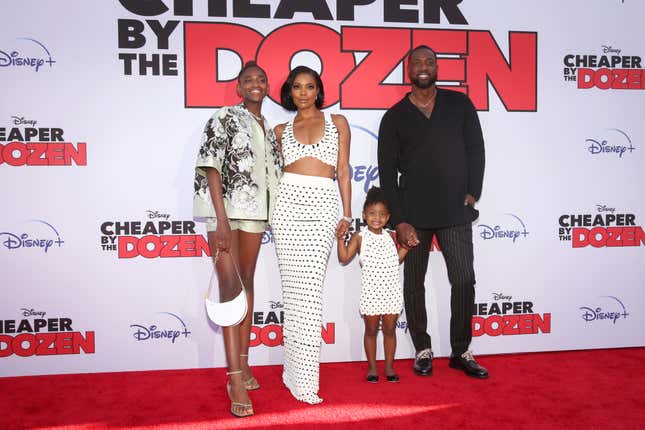 Updated on 2/25/23 at 3:38 p.m. ET: 
On Friday a court in Los Angeles finally granted Dwyane Wade's daughter her request to formally change her name to Zaya Malachi Airamis Wade. The court also recognized her transition, so her gender identity can be reflected on official documents.
Another Anti-Trans Policy Forced Virginia Students to Walk Out in Droves
Last November 3, 2022, Wade took to Instagram to personally address his ex-wife Siohvaughn Funches-Wade's allegations that he was allowing Zaya to make the changes for financial reasons.
"Since this must be the new way of parenting, I guess I have to address these allegations here, which is a damn shame. While I'm on a life-changing trip in our motherland, Africa, I've received a social media post about me forcing our 15 year old child to be someone she's not and to do something against her will. These are serious and harmful allegations that have hurt our children."
"While none of us are surprised by Siohvaughn's attempt to fight Zaya's identity and her unwavering attempt to drag my name through the mud, I'm very disappointed that she continuously find ways of centering herself and HER needs, without regard to her children. This report came out while Zaya was in class. This is a kid who has maintained a 4.0 GPA in honors classes while navigating all this unsolicited and harmful attention and debates about her gender and sexuality from those who are committed to not listening to her, much less even knowing her."
Dwyane Wade and his ex-wife Siohvaughn Funches-Wade have had different opinions about their daughter, Zaya, transitioning to a transgender woman at 15 years of age. The NBA star had filed a petition to legally change Zaya's name and gender on her birth certificate, which Funches-Wade disagreed with.
In a petition acquired by The Blast, Funches-Wade said that according to their custody arrangement both parents must agree in order for a decision like this to be made. She also claimed that: "There are multiple factors to be considered by the Court in determining the requests to change the minor child's name and gender. The minor child is fifteen and one-half years old."

Funches-Wade, who is being represented by Mark Gross, added:
"This matter has been highly reported in the media and there will likely be media pressure on the minor child...I have concerns that (Dwyane) may be pressuring our child to move forward with the name and gender change in order to capitalize on the financial opportunities that he has received from companies."
She also stated that her ex-husband told her Zaya's identity has been and will continue to be profitable:
"In April 2022, (Dwyane) invited me to one of his residences in Atlanta, Georgia. During this occasion, he informed me that a lot of money had been already made and that additional money will be made in relation to our child's name and gender issue. (Dwyane) told me that he intended to make our child very famous due to the name and gender issue and also informed me that there would be endorsements/contracts associated therewith."
Wade has been a protective father to Zaya during her journey. Perhaps now both parents can agree to disagree, and provide their daughter with the support she will continue to need.