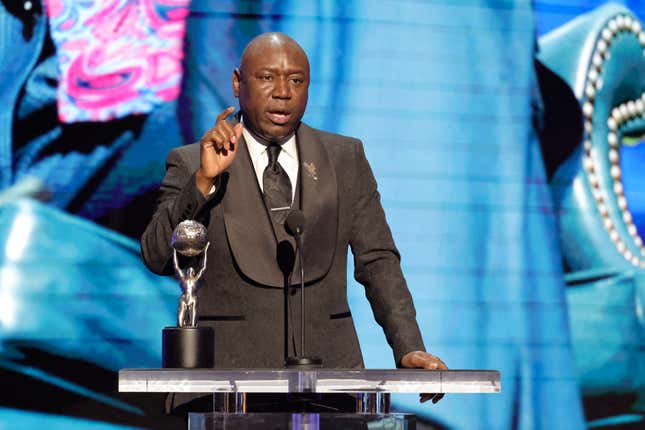 To say that civil rights attorney Ben Crump delivered a call to action at the 54th Annual NAACP Image Awards is an understatement. He straight up took us all to church with a sermon for the ages. As he accepted the Social Justice Impact Award, Crump highlighted how important it is for everyone to keep fighting against the police violence that is devastating our community.

The Black National Anthem Reached Its Pinnacle Via Sheryl Lee Ralph
"Accepting this award is greater motivation to continue to be an unapologetic defender of Black life, Black liberty, and Black humanity," he said. "I promise I will use the Social Justice Award as great incentive to fight against the legalized genocide of colored people and vow never to stop by fighting racism and discrimination when it rears its ugly head."
He then switched gears to preach about the importance of teaching Black history and how we will not let politicians sweep it under the rug.
"Now that they are trying to ban most celebrated black authors and AP African American studies, we must advocate for our children and our culture in the classrooms, and demand that they acknowledge the teaching of Black history matters," he exclaimed.
"We will not let elected officials exterminate our history, our literature, or our culture," he continued. "Not in Florida or any of the other 50 states, because it is so important that both Black children and white children and all children know that Black history matters. Because Black history is American history."
With the crowd standing and cheering, Crump concluded his speech by making it clear that he is nowhere near done fighting for Black children and their future.
"We are prepared to fight for Black history in and outside of the courtrooms just as hard as we will continue to fight for the George Floyds of the world, for the Breonna Taylors of the world, for the Ahmaud Arberys of the world, for the Trayvon Martins of the world and now for the Tyre Nichols of the world," Crump said. "Because we have to stand up for our children's future. We have to speak up for our children's future and we have to fight for our children's future. Because if we don't fight for our children's future, we can't expect anybody else to fight for our children's future. And we have to be ready to fight for our children's future until hell freezes over. Then we have to be ready to fight on the ice."