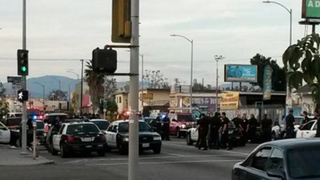 Two plainclothes Los Angeles police officers traveling in an unmarked car sustained minor injuries in a shooting Sunday afternoon at the intersection where officers fatally shot unarmed Ezell Ford last year.
According to the Los Angeles Times, the two unnamed officers were driving at 65th Street and Broadway when several men opened fire. The officers returned fire. The newspaper says that both officers sustained minor injuries. Authorities believe that the officers were "targeted" but have not said the shooting was a possible retaliation for the death of Ford, according to the Times.
The Times notes that Ford, 25, was stopped by police in August and, according to witnesses, was complying with police instructions when he was shot. Police claimed that Ford, who was a diagnosed schizophrenic, became combative during their encounter with him. The fatal shooting prompted several protests, with heightened racial tensions on the heels of the shooting death of Michael Brown, 18, in Ferguson, Mo., on Aug. 9.

According to the Times, several people were detained shortly after Sunday's shooting, but police are still looking for the gunmen.
Read more at the Los Angeles Times.