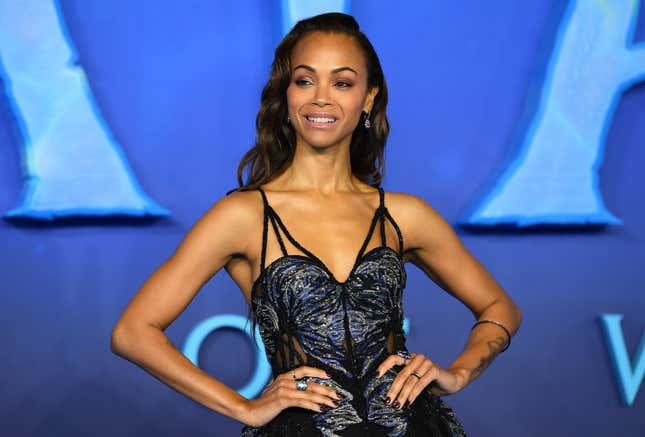 If you asked movie fans which actress is the biggest box office draw, you'd probably get names like Jennifer Lopez, Scarlett Johansson, Jennifer Lawrence or Julia Roberts. Turns out the woman bringing in all the money is Zoe Saldaña. The Guardians of the Galaxy star has made history by starring in four of the top 10 highest-grossing films of all time. With Avatar: The Way of Water currently breaking box office records, the Marvel star has become the first actor with four movies to gross more than $2 billion.

Kelly Rowland and Marsai Martin On Their New Film "Fantasy Football"
Per Box Office Mojo, the first Avatar film is the worldwide top-grossing film of all time with $2.9 billion. It is followed closely by Avengers: Endgame with $2.7 billion, then The Way of Water comes in at No. 4 with $2.1 billion and Avengers: Infinity War is No. 6 with $2 billion. If you think this isn't a big deal, this is where I tell you that of the top 10 highest-grossing films of all time, no other actor appears in more than three. Superstars like Robert Downey Jr., Chris Evans and Chris Pratt have not delivered the box office power of Saldaña. It is truly a history-making feat that this record has been set by a Black actress and not a handsome white guy named Chris. Despite her unmatched success in the Marvel Cinematic Universe, Avatar and Star Trek franchise, the actress is ready to move on to more artistically challenging projects.
"I feel that for the last 10 years of my life, I've been just stuck. I felt stuck doing these franchises," the From Scratch star told Women's Wear Daily in November. "I'm very grateful for the opportunities that they provided, from collaborating with amazing directors and getting to meet cast members that I consider friends and getting to play a role that fans, especially children, love."
She added, "But it also meant that I felt artistically stuck in my craft of not being able to expand or grow or challenge myself by playing different sorts of genres and different roles."
The actress is set to make her final bow as Gamora in the upcoming film Guardians of the Galaxy Vol. 3, set for release on May 5. She will also star in and executive produce the Paramount+ spy series, Lioness. And of course, there are like 73 more Avatar sequels coming, so we will definitely see more Neytiri at some point.