Updated Monday, Feb. 5, 2018, at 1:40 p.m. EST: Fiat Chrysler Automobiles U.S., which owns Ram, has made it all too clear that Martin Luther King Jr.'s estate was well aware of that Super Bowl ad and was "a very important part of the creative process every step of the way."
The statement was quoted in the New York Times and tweeted out by NBC News' Nadine Comerford:
The statement added that Ram was "honored to have the privilege of working closely" with the King estate. The licensor of King's estate, which approves the use of his words and likeness, is Intellectual Properties Management Inc. Dexter Scott King, the iconic civil rights leader's youngest son, is the group's CEO.
Earlier:
It was an ad so incongruous with what Martin Luther King Jr. stood for that it beggared belief.
G/O Media may get a commission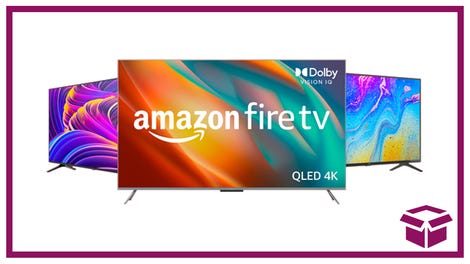 Ooh. stunning.
New Amazon Fire TVs
A Super Bowl ad for Dodge Ram pickup trucks featured a voice-over from MLK's "Drum Major Instinct" speech. The speech, which extolled the value of service and warned of the dangers of capitalism and marketing, was delivered by King in Atlanta on Feb. 4, 1968, just months before he would be assassinated.
In the ad, which aired on the 50th anniversary of the original speech, you can hear King's distinctive cadence delivering the words: "If you want to be important, wonderful. If you want to be recognized, wonderful. If you want to be great, wonderful. But recognize that he who is greatest among you shall be a servant."
As he says this, a black Dodge Ram barrels in slow motion through the mud onto the screen, wipers gliding across the windshield.
Service, ladies and gentleman. Available with no money down at your nearest Chrysler dealer.
The ad was immediately blasted—and the King Center and Bernice King, MLK's daughter, made clear they had had nothing to do with the ad. In fact, the King Center said that neither it nor Bernice King has the right to approve MLK's words or image "for use in merchandise, entertainment ... or advertisement."
Many Twitter users pointed out that the rest of the speech actually warned against the harms of capitalism—which is to say, being persuaded to "keep up with the Joneses" and living beyond your means. The irony was so rich, someone even overlaid the ad with a portion of King's speech in which he mentioned how people are "so taken by advertisers ... those gentlemen of massive verbal persuasion."
"They have a way of saying things to you that kind of gets you into buying," King can be heard saying in the alternate version. "In order to be a man of distinction, you must drink this whiskey. In order to make your neighbors envious, you must drive this type of car."
Or, you know, if you want your friends and family to know you're about that service life, buy a Dodge Ram.
In addition, it's worthwhile to note that the ad also features military servicemen prominently, another image that doesn't jibe all the way with King's moral compass—he was anti-imperialist and was staunchly against the Vietnam War for that reason.
So who let this happen? The famously litigious King estate—which, again, neither the King Center nor Bernice King has any control over. Slate magazine reports that Eric D. Tidwell, managing director of Intellectual Properties Management Inc.—the "exclusive licensor" of King's estate, and whose CEO is Dexter Scott King—said in a statement that the estate was "pleasantly surprised at the existence of the Ram Nation volunteers and their efforts."
More from Tidwell's statement:
We learned that as a volunteer group of Ram owners, they serve others through everything from natural disaster relief, to blood drives, to local community volunteer initiatives. Once the final creative was presented for approval, it was reviewed to ensure it met our standard integrity clearances. We found that the overall message of the ad embodied Dr. King's philosophy that true greatness is achieved by serving others. Thus we decided to be a part of Ram's "Built to Serve" Super Bowl program.
To borrow the parlance from one iconic Tyra Banks/America's Next Top Model meme: Drum major for justice, but make it all-terrain.