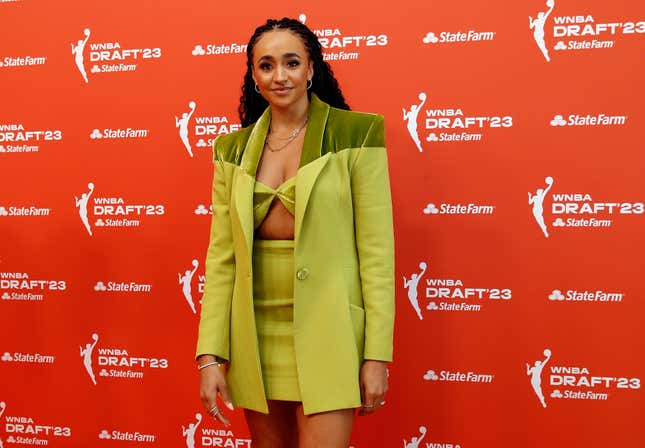 Updated 4/11/2023 at 3:45 p.m. ET:

Haley Jones was one of the most talked about players at the 2023 WNBA Draft. Before she got to the big event, Jones partnered with Tidal to go live and share her pre-draft playlist. Her stunning draft night outfit made her the center of attention on the Orange Carpet and her first moments with her new team caused quite a stir. Jones was picked by the Atlanta Dream at No. 6. Shortly after her name was called, the Stanford alum's new head coach, Tanisha Wright, tweeted, "Hey Girl!! Just trying to reach ya to congratulate ya on coming to the A! #PickUpYourPhone"
American Ninja Warrior: Season 15 Is Our TV Pick of The Week
After reporters told her that she missed her coach's call, Jones explained that she left her phone at the table with her family saying, "Coach, if you're listening, I'm so sorry…When I get to my phone, I'll call her back immediately. That is the worst first impression to have." Wright was understanding about the situation, responding with: "We will make an exception today."
Jones will get to make it up to her coach when Atlanta kicks off the regular season Saturday, May 20 against the Dallas Wings.
See original story below:
Stanford guard Haley Jones is one of the top prospects in the 2023 WNBA Draft. Her ability to create plays has multiple teams interested in adding her to their rosters. "They love how she pushes the ball with pace in the open floor, how she can find teammates," Basketball Hall of Famer and WNBA analyst Rebecca Lobo told ESPN. Ahead of the draft, Jones spoke with The Root about her excitement at finally having this moment happen and what she thinks she can bring to the league.

The ratings for the 2023 NCAA Women's Basketball Championship Tournament show that the sport has never been more popular than it is right now. With several big-name players like Aliyah Boston, Diamond Miller and Maddy Siegrist ready to start their pro careers, this is a very special time for women's basketball.
"It's on the forefront of a lot of news right now, which is really exciting to see. Since my time at Stanford, the growth of women's basketball has been just insane. It's getting more respect with the growth of social media and I always played into that," Jones told The Root. "Just seeing how many deals people are signing, how important they are to different companies, people are starting to watch games and then they stick. Beforehand it was just a lack of coverage. People didn't know what to expect and they just came to make assumptions about what the game looked like. But now that it's getting more coverage on networks like ABC and ESPN, people are watching and they're growing respect for the game, which is really exciting to see. I'm excited to hopefully continue that trend as I move into my professional career."
As a point forward, Jones will bring a combination of playmaking and defense under the rim to her new team. She feels like her versatility is what will help her make the transition. She's ready to show what she can do in the pro game.
"The aspect that will translate very well is playing multiple positions. I think it's really from me being a point forward where I'm able to rebound, push the ball with pace and not have to find an outlet," she said. "It allows for whatever team I'm on to play quickly. We can get different reads out of that. There are mismatches to exploit. Being able to be a ball handler at my size and create for myself, but also other people is what I'm looking forward to showcasing at the next level."
As a kid, Jones' favorite player was the legendary Tamika Catchings. She connected with the Hall of Famer's passion for the game. Haley decided "when I wanted to play I wanted to have that same joy for the game." Now that she's an exceptional player in her own right, the Stanford standout is learning how to adapt the best traits of other notable names into her game.
"I don't really model my game after one specific player. What I like to do is take aspects that I can then translate into how I play from different players," Jones said. "Whether it's playmaking abilities like Sue Bird and Sabrina Ionescu, rebound and push people like Breanna Stewart and Alyssa Thomas, back to the basket moves like Sylvia Fowles, base up like A'ja Wilson, stretch the floor like Stewie. I try to take different aspects from different people's games."
You can find out how Haley Jones fares in the 2023 WNBA Draft, when it airs Monday, April 10 at 7 p.m. ET/4 p.m. PT on ESPN.