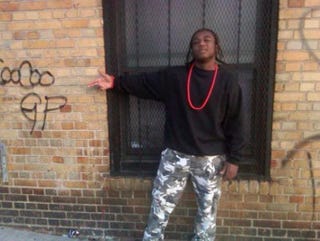 A 16-year-old was arrested early Sunday morning and charged with attempted murder after a standoff with police. The teen continuously updated his Facebook status while police were outside his door, the New York Daily News reports.
Corey Dunton has been charged in a shooting at Bryant Park ice rink in Manhattan that left one person wounded and another paralyzed in what police believe started over a coat.
The Marmot Mammoth, aka "the Biggie," is an oversized winter coat that comes in an assortment of colors and retails for $630. It is this coat that police believe sparked a confrontation between Dunton and Javier Contreras, 20, who was wearing the coat.
When Contreras refused to give up his coat, Dunton left and returned shortly after, opening fire on unsuspecting skaters, the New York Daily News reports.
Cops arrested Dunton in his apartment building after an hour-long standoff in which the teen reportedly continued to update his Facebook status from a mobile device.
"Feds trien [sic] kick down my door its over were do i go from hereeeee … [I don't know] wat to do i f——ed up," Dunton posted around 9 a.m. on Sunday.
Minutes later, he added: "These n——s gunna have to take me out take my life … I aint goin to jail i reather take my life!!"
Sources told the New York Daily News that police were tipped off by a witness who led them to the teen, who had been arrested several times before this incident. At one point, Dunton even took a photo of alcohol that he claimed to be drinking and posted an image along with the caption, "Feds at my door Im goin out with a bang!!!!!!! take my soul," he posted about 8 a.m.
Police charged Dunton on Sunday night with attempted murder, assault, criminal possession of a weapon and reckless endangerment.
Contreras was shot in the leg and is expected to recover. A 14-year-old skater, Adonis Mera, was struck in the back. The boy's family fears he will never walk again.
"He can't move anything from the waist down," his brother Jorge Arias, 29, told the Daily News late Saturday.
Read more at the New York Daily News.