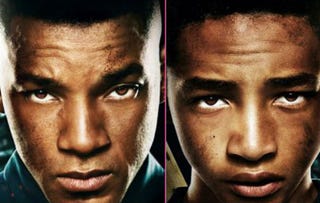 Will and Jaden Smith, in a new interview with New York Magazine to promote their new film After Earth, addressed Will's past money mistakes, how he educates his children on money — and Jaden talks about some of his rather expensive tastes.
Will Smith says he's met with, the author of Rich Dad, Poor Dad, author Robert Kiyosaki, and is trying to develop a curriculum "for children to understand even the basic connection between a bank and capitalism."
"I'm very serious with my kids about them comprehending the intricacies of global finance," Will Smith said. "Is it hard to educate your kids to be responsible about money when they grew up with wealth?"
Will Smith said that his children treat money differently, and seemed perplexed by some of their behavior.
Credit: Celebbuzz
Read More: http://www.blackenterprise.com/money/after-earth-stars-will-smith-and-jaden-smith-dish-on-money-expensive-taste/
BlackEnterprise.com is the premier business news and investment resource online for African American business owners and aspiring entrepreneurs