Howard University President Wayne A.I. Frederick is considering auctioning WHUT—the university's public television station, and for 35 years the only black-owned public television station in the United States—to the Federal Communications Commission for anywhere between an estimated $100 million and $500 million, according to a universitywide memorandum released Friday.
The channel's broadcast spectrum, containing both Channel 32 and its currently unused digital channel, Channel 32-2, would be submitted to an "incentive auction" that the FCC would have in March. The federal agency wants to sell the spectrum gained at the FCC auction to wireless companies that, according to the memo obtained by The Root on Sunday, "need more spectrum to accommodate the increased use of wireless services."
If Howard applies by the filing deadline, Dec. 18, and the FCC accepts, the move could net Howard, which has seen significant cutbacks in staff in recent years, hundreds of millions of dollars in needed funds. But it would also deprive Washington, D.C.—a large and historic black community that has become increasingly gentrified in the last decade—of an important black-owned platform for documentary and local public-affairs programming targeted to blacks, as well as a significant opportunity for the university's students in its School of Communications to learn television production.
Under the rules of the FCC national auction, the bid for WHUT's spectrum could start anywhere between $184 million and $461 million, according to Frederick's memo. But Frederick also explained that the FCC action is a "reverse auction," meaning that the ultimate price will depend on how many channels across the nation compete to sell their spectrums to the FCC. He postulated that the university would probably get "a fraction" of the opening amount.
WHUT's fate will be decided in early December by the university's board of trustees, said Gracia Hillman, the university's vice president of external affairs, in a telephone interview with The Root Sunday night. She confirmed the memo's existence. Hillman also emphasized that Howard was just looking at its options within a process controlled by the FCC, not the university. "We are reviewing all the information available. … We have not made a decision yet."
G/O Media may get a commission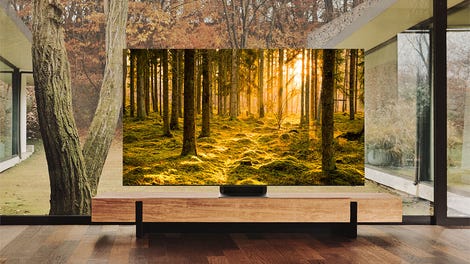 Up to 40% off
Samsung Smart TVs
In his two-page memo to the university community, dated Oct. 16, Frederick called WHUT's spectrum "valuable."
"Through the auction, there is the potential for the University to realize significant income as a result of the sale of its spectrum," he said. He also cautioned: "The upcoming Incentive Auction of television station spectrum will be a unique marketplace. It is unlikely to occur again."
Howard's president explained that the university has four options: sell, refuse to sell, change WHUT from the higher UHF spectrum to the lower VHF spectrum, or "partner or share broadcasting with another broadcaster." Hillman confirmed that the two more complicated options outlined by the memo—moving the channel to a lower spectrum, something that the FCC would have to decide for WHUT if it gets all the spectrum it wants, and sharing airtime with another channel—are indeed on the table if Howard moves forward.
In the memo, Frederick explained that he understood what was at stake on both sides of the issue: "Howard University must consider the significant financial opportunity presented with the Spectrum Auction. At the same time, we will consider the value that WHUT adds to the experiential learning opportunities for students and faculty of our School of Communications and College of Engineering, and the program and public service opportunities we provide to WHUT through our loyal viewers."
Along with Howard's commercial R&B-format radio station WHUR-FM, WHUT (founded in 1980 as WHMM) has been the jewel in Howard University's crowded crown, and one of the more significant institutions in D.C.'s black community. Documentaries produced by the station have been nominated for or have won Emmy Awards, and its public-affairs programming, such as Vocal Point and The Rock Newman Show, discusses current issues relevant to black people.
WHUT airs Howard's annual spring graduation live and regularly displays the achievements of students and faculty. It screens independent documentaries (pdf) by black filmmakers and, during Black History Month, finds and airs several documentaries on black history. It airs Democracy Now!, the award-winning leftist human rights newsmagazine, every weekday evening in lieu of a newscast. It also aired D.C. Breakdown, a newsmagazine produced by black-owned regional television network Soul of the South, until layoffs forced the program to cease production.
Frederick's announcement comes in the wake of increased broadcast consolidation nationwide and a slow decline in Washington, D.C.'s black media.
With circulation and advertising at black newspapers steadily dropping, on Oct. 5 veteran print journalist George Curry resigned from the NNPA News Service, a black newspaper wire service based in D.C., after his pay was cut in half. The National Newspaper Publisher Association had the only black print wire service for several decades, but in recent years it has been rivaled by print outlets Trice Edney News Wire and, in recent months, upstart the Urban News Service, led by black conservative television commentator Niger Innis. And the city's black population still mourns the loss of WDCU. In 1997 the University of the District of Columbia, an institution dedicated to the city's working-class students, sold the jazz station, which had weekday black public-affairs programming, to C-SPAN for $13 million when UDC faced a budget crisis. C-SPAN created C-SPAN Radio with the purchased frequency.
Meanwhile, black-oriented commercial television has struggled to provide nonentertainment content. In 2000 Black Entertainment Television—founded by former telecommunications employee Robert L. Johnson, and a cable channel that for much of its 35 years had attempted black news and public-affairs programming but couldn't sustain it financially—was sold to Viacom for an estimated $3 billion. BET was recently criticized for not covering the 20th anniversary of the Million Man March. Its rival black-owned TV One has a weekday morning talk show, NewsOne Now With Roland Martin, while Bounce TV, a black-owned digital subchannel like Soul of the South, has yet to produce news and public-affairs programming. 
Todd Steven Burroughs, an independent researcher and writer based in Newark, N.J., is the author of Son-Shine on Cracked Sidewalks, an audiobook on Amiri Baraka and Ras Baraka through the eyes of the 2014 Newark mayoral campaign. He is the co-editor, along with Jared Ball, of A Lie of Reinvention: Correcting Manning Marable's Malcolm X and the co-author, with Herb Boyd, of Civil Rights: Yesterday & Today.