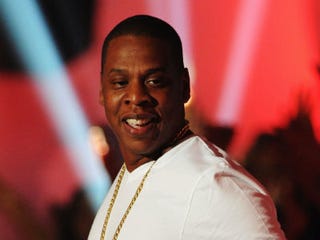 Video: Jay-Z wouldn't clap for Chris Brown: Everyone from Kanye to Justin Bieber stood up and clapped for Chris Brown at the VMAs last night. Except Jay-Z, that is. Too cool? Used all his excitement applauding his and Beyoncé's baby announcement? Or is the guy who discovered Rihanna really not a fan?
Police probe racially charged Facebook photo: The Huffington Post reports that South African police are investigating an image posted on Facebook of a white man with a hunting rifle and a big grin kneeling in a classic hunter's pose over his "prey" — what appears to be the lifeless body of a black boy.
Dangerous white stereotypes in The Help: In an op-ed for the New York Times, Patricia Turner says there's a problem with the message that bad people were racist: It implies that good people were not.
Happy birthday, Michael! King of Pop would have been 53 today: Celebrate his life with a gallery and rare MJ moments at the YBF.
In other news: Powell on Cheney's Book: 'Cheap Shots.'