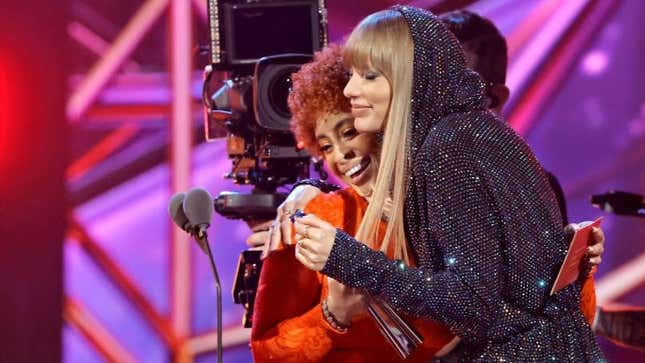 When I saw the news that Ice Spice would be featured on a song with Taylor Swift, I was happy for her! She's a rising young star in the music industry and being featured on a song with one of the most popular singers in the world would be huge for her career. Initially, I thought, "That's so dope that Taylor Swift is putting on an artist like Ice Spice."
Music Producer & Beyoncé Collaborator, Dixson, Plays That's So Random
Then, I remembered what Swift's boyfriend said about the Bronx rapper just months earlier, and all of my excitement went out the window.
Who is Taylor Swift's boyfriend and what did he say?
Swift's boyfriend is Matty Healy, the lead singer for the English pop band, The 1975. Healy and the group are beloved by many across the world, including Ice Spice herself, who voiced her fandom for the group during a February interview with ELLE. During the interview, she said, "I listen to alternative music. I feel like a lot of people wouldn't expect that. Yeah, shoutout to Coldplay, The 1975."
Except being thankful that Ice Spice listens to her music, Healy took a dump on her during a February appearance on The Adam Friedland Show, where he, comedian Nick Mullen, and Friedland made many degrading remarks about the "Munch" rapper, Chinese people and Hawaiian accents.
Healy, Friedland and Mullen referred to Spice as "chubby Chinese lady" and then started to mock Asian/Pacific Islander (API) accents. The episode was deemed so offensive that the episode was removed from Spotify and Apple Podcasts.
Why say such disrespectful and rude things about a woman you don't even know? Ice Spice was never rude to Healy. Hell, she even said she likes the music he makes. So why in the hell would you not only be rude to her but to API people as a whole? This led to Healy apologizing, but it was half-assed and insincere as an apology could be.
During an April show in Auckland, New Zealand, Healy said, "I just feel a bit bad, and I'm kind of a bit sorry if I've offended you."
He continued, "Ice Spice, I'm sorry. It's not because I'm annoyed that my joking got misconstrued, it's because I don't want Ice Spice to think I'm a dick. I love you, Ice Spice. I'm so sorry. I don't want it to be misconstrued as mean. I don't mind being a bit of a joker… but I am genuinely sorry if I've upset them because I fucking love them."
I don't know if Ice Spice thinks you're a dick, but I definitely think you are. If that is what Healy considers an apology, I hope he never apologizes to anyone ever again, because it won't make anyone feel better.
Taylor Swift's collab with Ice Spice
It seems that Swift's PR team is working overtime because it feels like there would be no way in hell Swift would feature Ice Spice on a song if her boyfriend didn't say something so idiotic. While I'm happy that Ice Spice will be introduced to an even bigger mainstream audience, it sucks that it had to come under these circumstances.