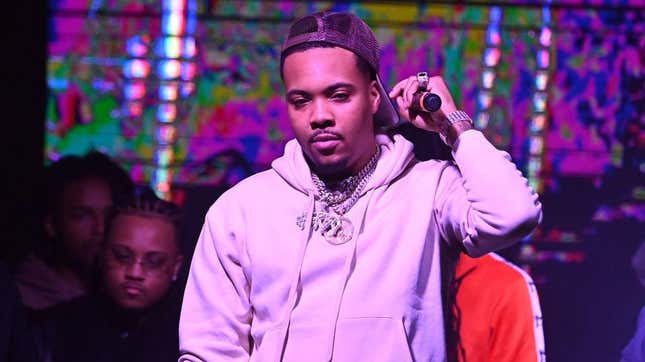 Just days after he was arrested for gun possession, popular Chicago rapper G Herbo is now facing much more severe and damaging charges.
Tackling A Black Maternal Health Crisis & Embracing Reproductive Justice | The Root Institute
On Wednesday, Herbo pleaded guilty to wire fraud, identity theft, and lying to federal agents after being indicted by a jury in 2020 in Massachusetts. Along with other associates, the Chicago artist is being accused of using other people's identities to spend more than $1.5 million in fraudulent charges, according to the Chicago Tribune.
Born Herbert Wright, he allegedly spent the money on private jet rides, trips to Jamaica, and "designer puppies" (who knew there was such a thing as designer pets). One of his other associates is promoter Antonio Strong, who is allegedly the brains behind the identity theft scheme and helped Wright obtain many of the luxury items he was hoping to acquire. Wright is also being accused of lying to federal agents about his relationship with Strong in November 2018.
While G Herbo is facing up to 20 years in prison, it's unlikely that will be his sentence. Instead, he's more likely to spend two to three years in prison as opposed to two decades. Herbo's plea hearing is scheduled to be on July 27 in Massachusetts, where the charges were brought against him.
His plea agreement reads:
"Wright used the proceeds of these frauds to travel to various concert venues and to advance his career by posting photographs and/or videos of himself on the private jets, in the exotic cars, and at the Jamaican villa.

"In addition, Wright helped Strong obtain designer puppies from a business by falsely representing to the business that Wright was the actual purchaser of the puppies and by concealing Strong's actual identity from the business."
The charges claim that Strong has been giving the Chicago rapper an assortment of luxury items since 2016. Prosecutors have used text messages and Instagram DMs to show that the two have been in contact for years, according to the Chicago Tribune.
Herbo has been ordered to pay nearly $140,00 in restitution to victims he stole money from, including $10,458 to Woof Woof Puppies in Michigan, the place where he allegedly bought those "designer" pets.