Eighty-six-year-old singer, actor and activist Harry Belafonte has moved on to a different battle, following his high-profile intergenerational beef with Jay Z this summer. 
Saying that at his age it's time to get his affairs in order, he filed a lawsuit Tuesday in a New York City federal court against the three surviving children of Martin Luther King Jr., one of his closest friends, the New York Times reports.
At stake are three papers that Belafonte says were passed on to him by King himself; by his widow, Coretta Scott King; and by King's close aide Stanley Levison, the Times says.
But King's heirs — Martin Luther King III, Bernice and Dexter — argue that the papers were taken without permission. Belafonte, who reportedly helped the King family economically during the civil rights movement, says he is hurt by the allegation. He filed court papers asking a judge to declare him the owner.
One of the documents is a three-page outline for Dr. King's 1967 speech "The Casualties of the War in Vietnam," written on a legal pad in Mr. Belafonte's New York apartment. The second is a letter of condolence from President Lyndon B. Johnson to Mrs. King. The third is an envelope Dr. King had in his pocket the day he was assassinated in 1968. On it he had scribbled notes for a speech he was to give in Memphis.
The Times reports that William B. Hill, a lawyer for the King estate, did not return telephone calls seeking comment.
A spokeswoman for Bernice King, Bunnie Jackson-Ransom, said Ms. King had no comment on Mr. Belafonte's suit. Messages left for the spokesman at the King Center in Atlanta, where Ms. King is chief executive, got no response. The King family has a history of suing to protect its right to Dr. King's works and images, and they have also aggressively sought to recover Dr. King's documents.
G/O Media may get a commission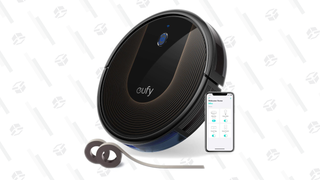 48% Off
Eufy BoostIQ RoboVac
The King estate is currently embroiled in another high-profile lawsuit. In July The Root reported that MLK III and Dexter, representing their father's estate, were complaining that the Martin Luther King Jr. Center, whose CEO is Bernice, has been careless with their father's intellectual property.
The lawsuit alleges that an audit conducted last spring "revealed that the current manner of care and storage of the physical property by defendant is unacceptable." It claims the items are "susceptible to damage by fire, water, mold, and mildew, as well as theft." 

The King brothers want the King Center to put their sister on administrative leave and get their approval for how all these items are maintained and displayed. They also want the Rev. Andrew Young, who was their mother's closest friend and adviser among their father's aides, and their father's niece Alveda King to be kicked off the center's board of directors.
Read more at the New York Times.