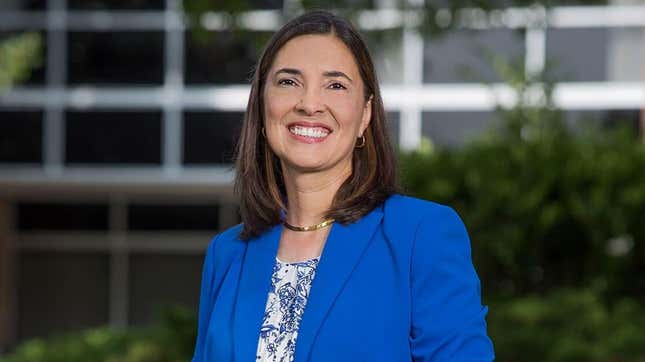 Do you know who Anita Earls is? No? Well, let me educate you. She's a North Carolina Supreme Court Justice who is the only Black woman in the state's high court and only one of two Democrats.
Comedian London Hughes Talks New Book, Parents Watching Her Very Sexual Comedy, & Beyoncé
On Tuesday, it was revealed that many of her Republican colleagues on the NC Supreme Court are attempting to have her ousted. Why do you ask? She told the media the truth, citing that racial bias exists in her courtroom.
In a June interview with Law 360, Earls talked about the lack of diversity among Supreme Court law clerks and the lack of respect given to specific attorneys, specifically Black women. She also discussed reimplementing implicit bias training in the court system, which was recently removed.
That interview alone has caused the Judicial Standards Commission in North Carolina (which is filled with Republicans) to go after Earls in a way that could have her removed from her position as an NC Supreme Court Justice after simply supporting racial equality in the courtroom.
Two weeks ago, the commission told Earls that her comments violated the code of judicial conduct, according to WTVD.
When I originally heard about this story, I initially thought, "This can't be it right? She had to have done something illegal or immoral right?" Nope, she just stated the facts. But even though damn near every North Carolina Republican in sight is going after her, Earls has not backed down.
According to The News & Observer, Earls is suing the commission in federal court, claiming that they are not allowing her to exercise her First Amendment right of free speech.
In her lawsuit, she claimed that the Judicial Standards Commission has been investigating her for months and that they have threatened disciplinary action for her comments about racial equality and bias in the courtroom.
More from The News & Observer:
In court filings released on Tuesday, Earls said: "The First Amendment provides me and every American the right to free speech and to bring to light imperfections and unfairness in our political and judicial systems. I believe that public confidence in the judiciary is best promoted by honestly looking at the facts, not by sweeping the truth under the rug or silencing dissenters…"

"The North Carolina Judicial Standards Commission is a non-partisan investigative body comprised of members appointed by the Chief Justice, Governor, General Assembly, and State Bar Council," she said. "The Commission is statutorily obligated to investigate all instances of alleged judicial misconduct and cannot comment on pending investigations."
Not only is Earls fighting back, but civil rights groups in North Carolina are behind her as well.
On Wednesday, Dawn Blagrove of Emanicpate NC stated that the investigation into Earls is part of a plan to silence Black people and help Republicans who make laws that make it easier to charge protestors of felony crimes, according to WRAL.
Yeah, I don't know the exact details of what a Supreme Court justice is and isn't allowed to do, but a justice just stating the obvious sounds like something they shouldn't lose their job for.