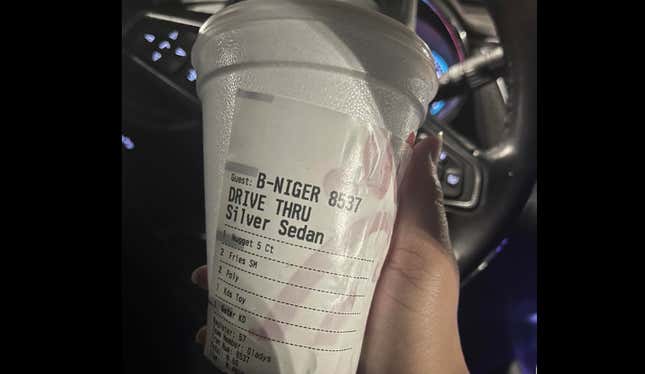 A North Carolina mom took to Facebook sharing a photo of her daughter's Chick-fil-A order which had the n-word printed on the receipt, per WSOC-TV. The company believes this wasn't intentional but rather a misspelling. However, they still may face legal action.

Black and Caribbean Twitter Unite To Protect... Oxtail
"This is really bothering me, my daughter just left from Chick-fil-A off Brookshire, and this what the employee put for her name, and it's black history month," wrote April Jackson via Facebook. The post included a photo of her holding her daughter's drink which had a receipt reading "B-NIGER" as the customer's name.
Jackson told local reporters she gave her Nyiasha to the woman employee upon ordering. When she pulled up to the window, a male employee handed her the bag and warned them to look at how the name was spelled. Jackson said she was in shock.
Now, some people in the comments jumped to Jackson's defense, seeing this as an intentional act of racism and calling for a boycott. Then, of course, the right-wing losers jumped in with all of their anti-woke antics, calling the incident a hoax just because of the missing "g."
Chick-fil-A also insisted the name change was a mistake.
More from Channel 9 News:
Channel 9 asked Chick-fil-A about the incident, and they sent us a statement, saying: "The Operator/Owner of Chick-fil-A Mountain Island has thoroughly investigated and tried to connect with the customer to better understand her experience and apologize for the situation. Though we understand this to be a misspelling of the customer's name, that does not negate the impact or experience had by our guests. The Operator has started additional training at his restaurant to ensure this doesn't happen again. We sincerely apologize for the harm caused by this incident."
Consider other establishments, most notably Starbucks, who take names for orders. They may ask you how to spell your name or do their best to spell it how they heard it. I've gotten "Kailen" or "Katelyn" plenty of times. The n-word isn't even close to Miss Nyiasha's name beyond starting with the same letter.
Chick-fil-A previously pissed Black folks off when they made a tweet promising we'll be the first community to know when the new spicy nuggets are added to the menu. Additionally, the franchise has been tied up in politics after being accused of supporting Trump and anti-LGBT organizations.
At the moment, the Mt. Holly-Huntersville Road store manager is scrambling to make this wrong right before they get sued.