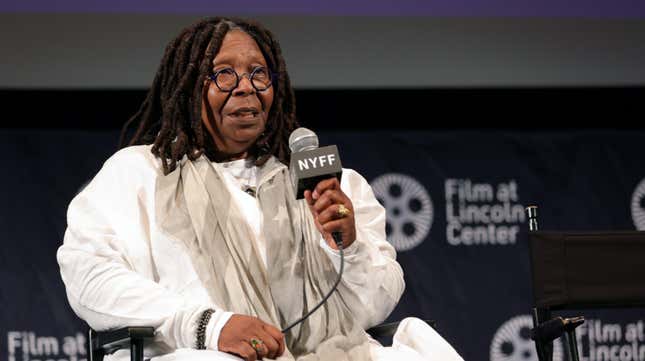 Whoopi Goldberg is apologizing once again for unintentionally rehashing her previous comments about the Holocaust and its origins.
Wanda Sykes' New Stand-Up & Beat Shazam Without Jaime Foxx– Our TV Picks This Week
If you'll remember, back in February, the longtime The View co-host was suspended for two weeks by the network for saying that the Holocaust "wasn't about race." She swiftly issued an apology less than 24 hours later and by all accounts, that kerfuffle was thought to have been settled.
However, thanks to a new interview with the Sunday Times in London, in which she was attempting to recount what happened months ago, her statements were somehow misconstrued in a way that appeared as if she was doubling down on her initial feelings. Because of this, she again came under fire from the Anti-Defamation League.
"Yet again, #WhoopiGoldberg's comments about the Holocaust and race are deeply offensive and incredibly ignorant. When she made similar comments earlier this year, we explained how the Nazi regime was inherently racist. Read on," ADL CEO Jonathan Greenblatt wrote on Twitter. "The Nazis set out to exterminate the Jewish people, whom they viewed as inferior to the mythical 'Aryan master race.' They used pseudo-scientific theories of race to justify their anti-Jewish "race laws" and systemic slaughter of millions. It's no coincidence that white supremacists in the US today echo the Nazis' "master race" claim as they spread their antisemitic and racist hate. Additionally, Whoopi's comments show a complete lack of awareness of the multiethnic, multiracial makeup of the Jewish community. She needs to apologize immediately and actually commit to educating herself on the true nature of #antisemitism."
In an attempt to clarify what actually happened, Goldberg issued another statement to Deadline saying:

"Recently while doing press in London, I was asked about my comments from earlier this year. I tried to convey to the reporter what I had said and why, and attempted to recount that time. It was never my intention to appear as if I was doubling down on hurtful comments, especially after talking with and hearing people like rabbis and old and new friends weighing in. I'm still learning a lot and believe me, I heard everything everyone said to me.

I believe that the Holocaust was about race, and I am still as sorry now as I was then that I upset, hurt and angered people. My sincere apologies again, especially to everyone who thought this was a fresh rehash of the subject. I promise it was not. In this time of rising antisemitism, I want to be very clear when I say that I always stood with the Jewish people and always will. My support for them has not wavered and never will."