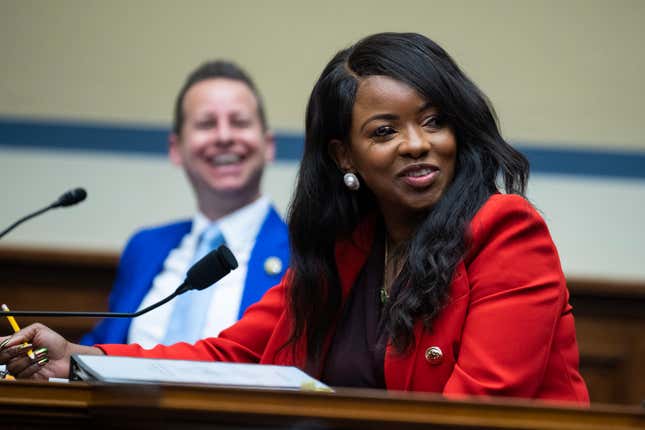 Representative Jasmine Crockett showed up to work fully prepared to read her Republican colleagues. On Tuesday, Crockett (D-TX.) went viral for calling out the hypocrisy of her colleagues for worrying about crime on the streets of Washington, D.C., while doing nothing about Representative George Santos' many, many felony charges. But who exactly is the Texas Congresswoman behind the viral moment?
This Juneteenth We Revisit The Anderson .Paak BLM Track "Lockdown"
Well, the first thing to know is that Crockett, 42, is that's she fresh face on the Hill. The freshman lawmaker, who previously served in the Texas legislature, was sworn in last January to represent Texas' 30th district (mostly Dallas) in one of the most turbulent times in congressional history. (Yes, this is a dig at the Republican leadership fiasco).
In spite of the chaos, Crockett is already having a notable first legislative session. She became the first Black woman to be elected as Freshman Leadership Representative and has fought on issues like abortion, health care, substance abuse support, white supremacy, and gun violence.
In an interview with The Guardian, the freshman lawmaker spoke from the heart about gun violence and the ways it's touched all of our lives, including hers. As folks may recall, earlier this month, a gunman with alleged Nazi tattoos opened fire in a mall in Allen, Texas, killing eight people, including three children.
"I was texting my mom to see where she was because it's a suburb 30 miles north of my district, and on the weekends, she usually goes shopping," Crockett, 42, recalls in an interview with The Guardian. "She texted me: 'I'm at my friend's house. Why?' 'Because of Allen.' 'What's going on in Allen?' And I'm like, 'There's a shooting at the mall."
Reflecting back on the moment, the endless cycle of these shootings struck a nerve. "It's heartbreaking. At the end of the day, as we saw the carnage, I wasn't thinking or wondering, well, is that a Democrat or Republican or independent? I was thinking, 'We've got to do better,' and honestly, those bullets didn't have R, D, or I on them, either," she said.
Crockett Calls Out GOP Hypocrisy
Her willingness to call people out is exactly what's landed her in the spotlight. For those who missed it, earlier this week, Crockett laid into her Republican colleagues' hypocrisy over Santos.
"My Republican colleagues want to talk about keeping D.C. streets crime-free. They can't even keep the halls of Congress crime-free," said Crockett. "My freshman colleague has just been indicted on 13 counts — 13 felony counts, right? But have they exhibited any courage to say, 'You know what, we will disallow this in our body."
Crockett's take on her colleagues landed even harder in the days that followed. On Wednesday, Republicans voted down a measure that would have expelled Santos from the House.
Santos wasn't the only person Crockett had smoke for in her comments on Tuesday. She also called Republicans out for saying they care about law enforcement protecting victims of sexual violence while continuing to support Donald Trump, who was just found liable for sexual abuse.
"I'm so excited that my colleagues across the aisle care about sexual abuse considering that the frontrunner right now for the presidency has just been found liable of sexual abuse," she said. "Cause this may mean that finally, some folk will back off of supporting him because we don't support sexual abusers in this chamber."
For the record, prominent Republican lawmakers' reactions to the verdict have mostly ranged from dodging the question to outright defending him and trashing the jury, so her accusations aren't that far out of bounds. It's still very early in her legislative career, but if this week's showing is any indication, we'll be hearing a lot more from the Dallas rep.