Karma is running toward "Jogger Joe," the white man who was captured on video tossing a homeless man's belongings into a nearby lake.
According to SF Gate, ole Joe, real name Henry Sintay, was arrested Monday on suspicion of first-degree robbery after being accused of stealing a phone from a man who confronted and filmed him a day later at the same lake.
Sintay, 31, is being held at Santa Rita Jail in Dublin, Calif., on $100,000 bail and is expected to appear in court Wednesday.
The story began when the bearded and shirtless Sintay, with a baseball cap turned backward on his head, was seen on Friday putting his jogging on hold, just so that he could throw a man's belongings into Lake Merritt, even as onlookers spoke out in shock and horror.
"What do you want me to do?" Sintay could be heard saying in the video. "It was going everywhere. It was already way over here. Look at this. If you want to help, help."

G/O Media may get a commission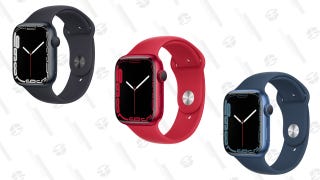 Up To $45 Off
Apple Watch Series 7
Even Oakland, Calif., Mayor Libby Schaff spoke out against the incident: "It is not appropriate to take someone's belongings; it's not appropriate to trash our beautiful Lake Merritt."
The community rallied around the homeless man, identified by SFGate as "Drew," and dropped off new clothes and blankets for him. Some have also sought to raise money for Drew this week.
Sintay was subsequently arrested over a separate incident that occurred Saturday. Matt Nelson, a community organizer, saw Sintay pulling some of Drew's belongings from the lake and began streaming on Facebook Live with his phone.
In that video, Sintay could be seen attempting to fish Drew's belongings out of the lake and claiming that he had cleaned up the items but some had fallen into the lake. At one point, Sintay grabbed for Nelson's phone and scuffled with Nelson on the ground before running off.
On Facebook, Nelson claimed to have sustained a mild concussion, as well as some scrapes and bruises.