"How you gon' make 32 shades of the same color, though?"
That's the question popular beauty blogger Shayla Mitchell had for Beautyblender after peeping their much-touted new "Bounce" liquid foundation, which launched on July 24. And we're inclined to agree; like many devotees of the brand's game-changing, egg-shaped makeup sponge, we were excited to hear that they were moving into the foundation game—and were instantly in love with the bottle's revolutionary design, which includes a reservoir for the product.
So, imagine our disappointment to find that in this, the year of our Lord 2018, foundations are still being created without a full spectrum shade range. Come on, Beautyblender. Has Fenty taught you nothing?
But alas, while other brands are scrambling to give equal opportunity to fair, medium and dark skintones, the Latina-owned Beautyblender clearly didn't get the memo, as the bulk of their development seems to have been focused on the light-to-medium end of the spectrum.
And social media was not having it.
G/O Media may get a commission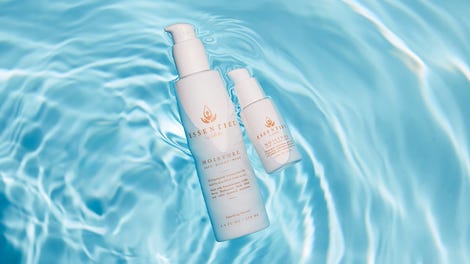 20% off
Essentiel by Adele
Our crew here at The Root also had some choice words upon seeing the shade range, sparking a lively Monday morning conversation via Slack:
Breanna Edwards (news editor): "There are literally four viable shades for medium people (I won't even say dark), and one of 'em looks like chipotle mayo. WTF? Also, there are no variety in the undertones."
Anne Branigin (staff writer): None at all.
Panama Jackson (senior editor, VSB): Hmmm...which one am I? Also ... I realize i set myself up AFTER I hit "send."
BE: LMFAO
AB: Hahahha
Michael Harriot (staff writer): The shades range from Taylor Swift to Rachel Dolezal.
AB: !!!!! (Dead.)
BE: The biggest insult is they carry Trump's shade. What in the tangerine menace?
AB: OMG, they do carry her color. "Mandarin Mean Girl."
BE: "Trumplestiltskin."
MH: With four shades for the "black friend." Just in case Tasha from Accounting wants to borrow some concealer after she hears one of her coworkers use the n-word during the company retreat.
Watching Shayla test the deepest shades, it's obvious that there are major gaps between shades, begging the question why Beautyblender didn't bother to go the 40-shade route, like so many others have felt compelled to. But the biggest irony? That the Bounce shade range seems to have failed its palest customers, too.
Seriously, folks: How is anyone currently venturing into the foundation market ignoring the demand for a fully-developed shade range? If a brand has one chance to make a first impression, in this day and age, that impression should be inclusivity.
And while Bounce wasn't a bust for everyone, it's really a shame, since by all accounts, it's a featherweight, full-coverage foundation that beautifully mimics skin texture (though Shayla experienced some creasing)—too bad Beautyblender didn't seem to think it was a formula we could all benefit from.