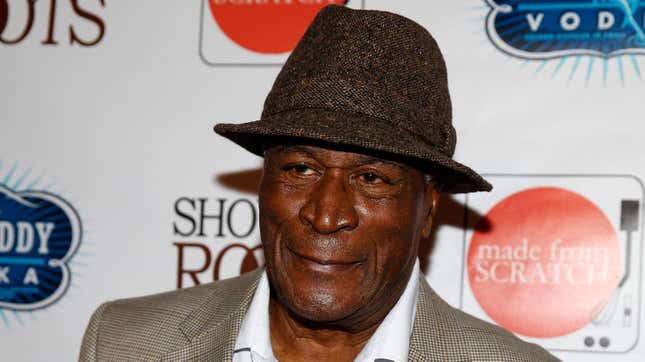 Updated on Friday, July 21 at 7:00a.m.PT: John Amos' daughter Shannon is speaking out following her brother's arrest stemming from a series of disturbing and "concerning" texts he sent her that caused her to fear for her life.
My Hip-Hop Story: Cedric The Entertainer On Jay-Z and His Indisputable Role In Shaping The Genre's Culture
"My family and I continue to advocate and fight for the proper care of my father," she said in a statement to People. "I am pleased that Kelly is being held accountable for his actions which have put my father's health at risk, and look forward to resolving this matter in private with the proper authorities."
She continued: "Despite false accusations and defamatory statements being made against me, I remain committed to ensuring that he receives the best medical care. John Amos may be known as 'America's Dad', but for me, he is my father."
And as if this messy story needed anymore plot twists, a rep for Shannon later added: "The family and Shannon are all working together to get John the care he needs. In fact, he actually told Shannon's daughter that he did not recall any of the statements he previously made regarding this issue."
At this point, all we can hope for is that John Amos is getting the best care possible and that all this other craziness will come second to that.
See original story below.
It's no secret that insane family drama follows even the best of the best of us, no matter what socioeconomic class we fall under and the same can unfortunately be said of Good Times star John Amos, specifically as it relates to his children Shannon and K.C. Amos.
Per official documents obtained by TMZ, John's son K.C. is currently sitting in jail thanks a myriad of threatening and "concerning" texts he allegedly sent to his sister, which caused her to "fear for her life." Shannon claimed that her brother allegedly sent pictures of guns, him firing the gun and texts about his alleged gang affiliation and texted her the phrase: "Gonna sleep much better tonight big sis."
TMZ has more:
According to Robert Florida, a spokesperson for the Essex County Prosecutor's Office ... Shannon said K.C. suffers from bipolar disorder, which has led him to believe she hired someone to kill him — and now she's worried he might retaliate.
Things between John, Shannon and Amos have been testy to say the least. To refresh your memory, last month, we told you about how his daughter alleged that her father was the victim of elder abuse and was "fighting for his life" following a hospitalization back in May. As shocking as that was for the world to hear, what was even more shocking was the fact that John himself later refuted his daughter's claims in a statement not too long after that and demanded all the money collected from the GoFundMe page she started to take care of his "care, legal fees, and aftercare" be returned back to donors. (The page has since been deleted.)
"To all of my fans, I want you to know that I am doing well. I am not in ICU, nor was I ever fighting for my life," he said. "First, I want the GoFundMe campaign about me to stop immediately and the funds subsequently returned to those who made donations. My son [K.C.] and I will reveal more information at the appropriate time." (For additional context, John and his son are extremely close and have gained popularity on TikTok for their funny videos.)

And if that alone wasn't enough to have your jaw dropping, perhaps the biggest plot twist of all came a little over a month ago when John accused his own daughter of elder abuse and alleged she'd been 'taking advantage of him' in a video posted online.
"She would be the primary suspect—if you would," he said. "I don't know if that's the right term to use or not. But she's the one that I would attribute my elderly abuse to. It's definitely a case of elderly abuse."
Now with the K.C. in jail, things have undoubtedly took a turn in the wrong direction if these three are looking to truly reconcile their issues.