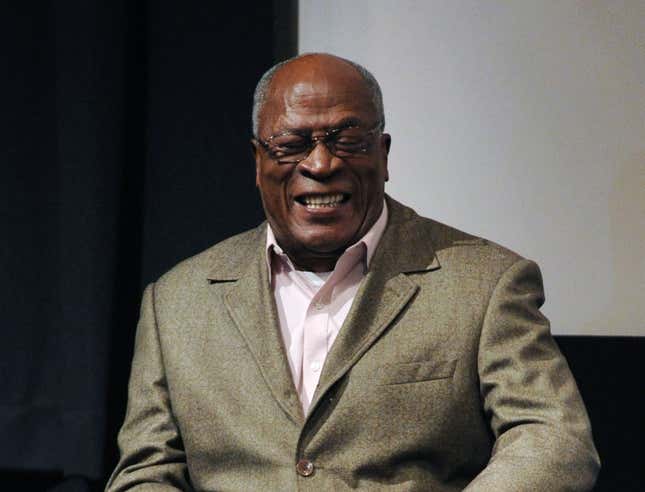 The ongoing controversy between legendary actor John Amos and his daughter, Shannon Amos, has reached a new, very concerning level. In a video posted on Instagram by his son, K.C. Amos, the Good Times star can be heard speaking to someone on the phone. As he describes his current hospitalization, which he says is a result of "water retention," he states that his daughter has "taken advantage" of him and accuses her of "elderly abuse."

Cedric the Entertainer Shares Details Of His First Crime Novel & Tackles Our Random Rapid Fire Questions
"She would be the primary suspect—if you would," he said. "I don't know if that's the right term to use or not. But she's the one that I would attribute my elderly abuse to. It's definitely a case of elderly abuse."
The video is accompanied by the caption, "There are many different aspects to this situation. It's interesting how many people have made a conclusion while we are still discovering new elements every single day."
This messy scandal started back in May when John was initially hospitalized, and Shannon announced that he was a victim of elder abuse by a "trusted caregiver" and started the GoFundMe, claiming that the money would be used for "John's care, legal fees, and aftercare."
In a statement to People, John explained why he wanted to release the video and clear the air about his family situation.
"To all of my fans, I want to share this video with you to show you that I am not in the distressed condition as described in the GoFundMe page," John said. "As a matter of fact, I am doing well."
The video comes after Shannon started a GoFundMe claiming her father was a victim of elder abuse. The campaign reached over $12,000 before the Roots actor asked that the site be taken down.
"To all of my fans, I want you to know that I am doing well. I am not in ICU, nor was I ever fighting for my life," the actor said in a statement to People on Thursday. "First, I want the GoFundMe campaign about me to stop immediately and the funds subsequently returned to those who made donations. My son and I will reveal more information at the appropriate time."
It appears the appropriate time is Friday. Based on what we hear from John's side of the phone call, it sounds like he may be looking for information on taking some sort of action against his daughter. Of course, it's unclear what that action could be. People reached out to her, but Shannon did not comment to the outlet on the accusations.