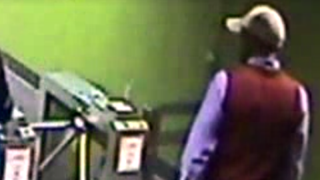 Myron May, the 31-year-old Florida State University 2005 alum who went on a shooting spree in the school's library in November, can be seen carrying out the attack in new surveillance video recently released to the public, the New York Daily News reports.
The footage shows May—conservatively dressed in a long-sleeved shirt, vest and baseball cap—calmly walking around in the Strozier Library. He can be seen trying to get to another section of the library that would have required him to go through a swipe turnstile. He does an about-face and returns to the section he came from.
When the shooting melee begins, students can been seen reacting to the gunshots and walking quickly away from the gunfire. Some students approached to see what was happening and then retreated.
 
Even more eerie, two staffers who were manning the library's front desk immediately take cover underneath the desk. May can be seen walking behind the desk and firing at the workers at point-blank range. Fortunately, footage shows the staffers emerge seconds later and run away. One of the staffers was mildly injured by a grazed bullet, the Daily News reports.
In all, May injured two students during the attack—one is paralyzed from the waist down—and shot at a third student, who later found that his textbook had shielded him from the bullet.
May was fatally wounded by police officers when he engaged in gunfire with them outside the library. May's friends and acquaintances say he suffered from mental-health issues.
Read more at the New York Daily News.