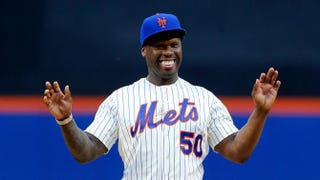 50 Cent can blame his tight Mets jersey for what many people are calling the worst first pitch in the history of first pitches.
On Tuesday the rapper took the mound at Citi Field in Queens, N.Y., to throw the ceremonial pitch before the New York Mets-Pittsburgh Pirates game. He did a decent job looking the part of a pitcher, but on his release, the rapper unleashed a doozy of horribleness.
It isn't just that the pitch is bad—it's that the pitch is being called the worst ever.
Which means that 50's pitch was worse than Mariah Carey's lame attempt at throwing a baseball in 4-inch heels. That 50's pitch was worse, even, than that of Olympian Carl Lewis, who asked for a do-over shortly after he released the ball.
Watch the "worst of" roundup below and let us know where 50 Cent ranks.