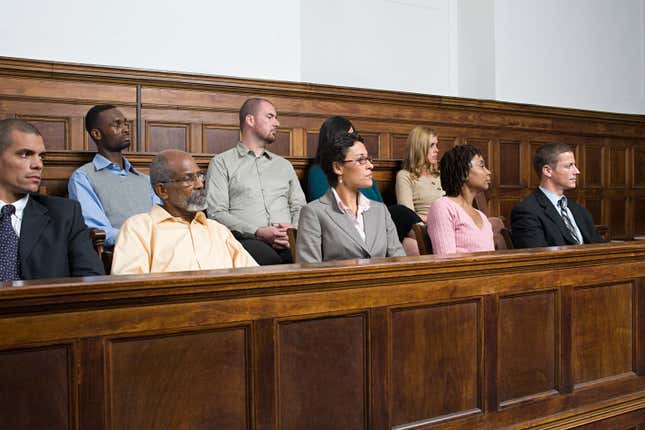 Everyone who's watched Law and Order knows that in a criminal case, you're entitled to a jury of your peers. But what happens when you scan a courtroom and don't see any faces that look like yours staring back? Well, that's exactly what happened to 65-year-old Theodore Rhone. Now, nearly two decades after that fateful day in court, he's getting a new trial.
This Juneteenth We Revisit The Anderson .Paak BLM Track "Lockdown"
Last week, a Washington State Supreme Court ruled that prosecutors discriminated against Rhone, who is Black, by striking the last Black man from the jury without an explanation. The decision was unanimous and means that Rhone will get a new trial.
Rhone was charged roughly twenty years ago with first-degree robbery, unlawful possession of a controlled substance with intent to deliver, first-degree unlawful possession of a firearm, and bail jumping. Because of the state's three-strike policy, he was sentenced to life without the possibility of parole. With a new trial on the horizon, it's possible that Rhone could return home after spending nearly a third of his life behind bars.
"My life prior to this, I didn't know about God, what it meant to be a man," Rhone told the Seattle Times. "I'm 65 years old today, and it's like, 'OK, I get it.' It's a shame I had to go through so much to get life, but I get it."
Back in 2005, when Rhone first went on trial, his team and prosecutors agreed to strike two Black jurors from 41 person jury pool, leaving just one Black juror left. The prosecution team then moved to strike the final Black juror from the pool without giving any explanation. (This was allowed under what's known as a peremptory challenge).
Rhone immediately caught on to the risk of jury bias. "I don't mean to be facetious or disrespectful or a burden to the Court. However, I do want a jury of my peers. And I notice that [the prosecutor] took away the [B]lack, African-American, man off the jury," said Rhone after the court swore in the jury.
"Also, if I can't have—I would like to have someone that represents my culture as well as your culture," he continued. "To have this the way it is . . . seems unfair to me. It's not a jury of my peers. . . . I am an African-American [B]lack male, 48 years old. I would like someone of culture, of color, that has—perhaps may have had to deal with [improprieties] and so forth, to understand what's going on and what could be happening in this trial."
This decision was a long-time coming, not just for Rhone but for the state's criminal justice system. In 2017, the state Supreme Court strengthened protections against jury discrimination, upholding defendants' rights to "be tried before a jury selected by nondiscriminatory criteria." Ironically, because Rhone wouldn't get a new trial for years, the ruling was referred to as "the bright-line Rhone rule."
The decision last week only entitles Rhone to a new trial, not his freedom. But after decades behind bars, his family is happy to have the chance to bring him home. "I'm very happy. I can't express to you what I feel," his wife, Sadarah Rhone, told the Seattle Times. "I'm crying not because I'm sad but because I'm happy. I do believe that they did the right thing, that justice prevailed."