A Washington, D.C.-based black attorneys group is demanding that former North Charleston, S.C., Police Officer Michael Slager be given a life sentence in his federal case for the 2015 shooting death of unarmed black motorist Walter Scott.
Malik Shabazz, president of Black Lawyers for Justice, is concerned that Slager will get a light sentence, Live 5 reports, and on Tuesday afternoon he told reporters outside the federal courthouse annex in downtown Charleston, S.C., that Slager should get nothing less than a life sentence.
"Walter Scott was gunned down like a deer or like a dog," Shabazz said.
Slager, who made a plea deal with federal prosecutors that resulted in his state charges being dropped, pleaded guilty May 2 to violating Scott's civil rights under the color of law. He faces anywhere from probation to life in prison when he is sentenced by a federal judge.
Minister Hashim Nzinga, chairman of the national New Black Panthers Party, joined Shabazz outside the courthouse and said he is concerned about the plea deal Slager's attorney made with prosecutors.
"We're not going back to the '60s. We have paid our dues," Nzinga said. "Dr. King took the last bullet that we will let a black man take, and we're standing up for justice."
G/O Media may get a commission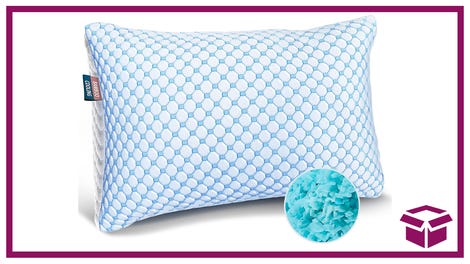 23% off
Nestl Cooling Pillow - Queen Size
"If the judge believes we are not serious about justice and we are more serious about forgiving than justice, Michael Slager can be back on the streets soon, and we don't want that," Shabazz said.
As Live 5 notes, Scott's family members also have gone on record asking for a life sentence.
Scott's family received a $6.5 million settlement from the city of North Charleston, but Shabazz said the settlement does not give them justice.
"Stiff justice, not compromised justice," Shabazz said, adding that his organization will be in Charleston the day Slager is sentenced.
According to Live 5, Slager will be sentenced after the judge receives a presentencing report.
Read more at Live 5.