It's official: Atlanta fans have to wait a little longer for Season 3. In fact, we'll be waiting so long, it's a no for Emmys eligibility this year.
We're used to Atlanta securing that Emmy bag—the beloved show currently has five statuettes to its name. The term "critically acclaimed" applies here for sure, an applaud-worthy feat for a show with just two seasons under its belt.
The reason? Donald Glover is too damn busy. Okay, not just him, but the entire cast. The FX hit's co-star Zazie Beetz recently touched on this during an interview at the 2019 Sundance Film Festival.
They all eating. They all securing bags. Which is dope and I'm sure we're all happy for their success, but where is our Atlanta, dammit?!
G/O Media may get a commission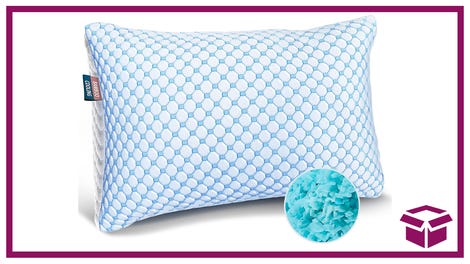 23% off
Nestl Cooling Pillow - Queen Size
Well, according to FX CEO, John Landgraf, it'll come in due time. When everything is lined up, of course. Plus, he says the non-annual show schedule is not abnormal for the network, citing Fargo and Taboo.
"We have so many programs that don't cycle back on an annual basis," noted Landgraf at the Television Critics Association (TCA) press tour, per Deadline. "You have to make a decision about quality over quantity and we're erring on the side of quality."
Oh, we know what that means. Sit our asses down and wait for this quality content! You can't rush art, blah blah blah.
Landgraf also added some additional insight into what Glover has had on his plate in the past year and will continue to have this year.
"Donald Glover is sort of the king of all media, and he just has had an incredibly complicated life. He's had personal things he's had to deal with, from injuries to other things I'd rather not say publicly that just have to do with not with his personal life but his extended family," added Landgraf.
One personal thing that immediately comes to mind is the actor-singer likely having to process the tragic death of his father, Donald Glover, Sr.
We'll wait. We can't do anything but.