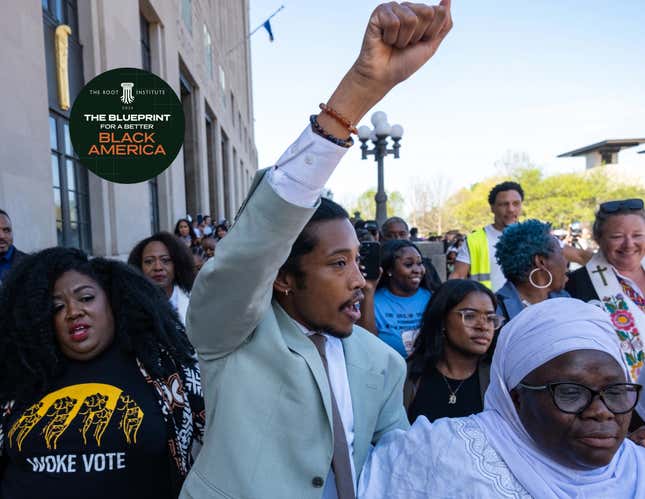 This article is part of The Root Institute 2023 pre-event coverage.

Tennessee voters overwhelmingly rejected Tennessee Republicans' decision to toss two Black lawmakers out of the state legislature. But even though voters brought state representatives Justin Jones (D-Nashville) and Justin Pearson (D-Memphis) back, that doesn't mean Republicans are ready to play nice. Instead, GOP lawmakers once again made it clear that their way of governing isn't strong enough to stand up to dissent.
Republican-Led Political Expulsions Like In Tennessee Will Be The New Norm
On Monday, GOP lawmakers voted to silence Rep. Jones for violating a rule that was only enacted last week. The rule, ushered in by the conservative majority, allows any member to be silenced if they stray away from discussing the bill up for debate. If you've ever watched C-SPAN for even five minutes, then you know how petty this is—members of legislative bodies commonly use their floor time to bring up issues important to their constituents, even when the topic is unrelated to a specific bill on the floor. It's literally what legislators are there to do, and has been practiced by members of both parties in Tennessee and elsewhere...until now.
Specifically, Rep. Jones was criticizing legislation that would have increased law enforcement officers in Tennessee schools. "What our schools need are mental health professionals," said Rep. Jones, according to the AP. "We need funding for mental health, for counselors. We need to pay our teachers better. We don't need more police in our schools."
House Speaker Cameron Sexton (R-Cumberland County) ruled that Rep. Jones was out of order, calling a vote on whether Jones needed to be silenced for the remainder of the session. Jones' GOP colleagues voted to silence him, prompting Democrats in the chamber to leave in protest.
This is hardly the first time that Sexton and the Tennessee GOP have gone after Rep. Jones and the "Tennessee Three." In April, they voted to oust Pearson and Jones for speaking their mind on the state house floor, only for the pair to win back their seats earlier this month.
The events on Monday indicate that despite a clear signal from the voters in the legislator's districts, Republicans are dead-set on keeping Jones and Pearson quiet. But no worries; Jones hasn't emptied the clip yet. He's called for a vote of no-confidence on Sexton, and he and other Dems walked out of the chamber in a show of unity over the effort to keep him quiet.