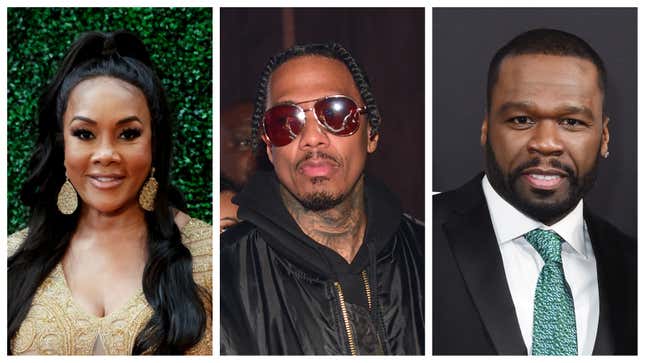 Nick Cannon is back in the news again for doing what he does best—no, not fathering children—but running his mouth about people, places and things he probably shouldn't be. The subjects this time: Vivica A. Fox and 50 Cent. I'll explain.

Wanda Sykes' New Stand-Up & Beat Shazam Without Jaime Foxx– Our TV Picks This Week
During a recent episode of Cannon's new radio show, The Daily Cannon, he alongside hosts Mason Moussette, Courtney Bee, and DJ Abby De La Rosa discussed Fox's recent admission that she'd possibly be open to dating the rapper and Power producer again. When Moussette and Bee cosigned Foxx's statement and also expressed their (mostly sexual) interest in being with 50 as well, Cannon was taken aback.
"You can fantasize about Fif from 15 years ago. That's a different Fif than this fat nigga that's walking around now," he said, before later adding: "He is fat! He look like he got a pack of hot dogs in the back of his neck. You lookin' at them pictures from Get Rich or Die Tryin', now it's Get Thick or Die Fryin'!" (Last time I checked, it's 2023. I thought we left fat jokes in the early 2000s?)
Naturally, as his comments began circulating, it ended up catching the attention of both Foxx and 50 who weren't too thrilled to see their names in Cannon's mouth.
"Yo let me correct myself!," she wrote in the comment section of a post from Hollywood Unlocked. "Yo Nick I'd rather be with #50Cent any day than yo community dick ass! Now go somewhere and pay yo child support! #CloutChaser."
In an Instagram post to his own page, 50 subtly responded: "If your marketing campaign is say something about 50. Your not going to make it, have a nice day."
Cannon has yet to respond to either person but in the clip posted above, he invited 50 to come on his show. Let's see if that happens.