Another day, another video of police terrorizing and brutally beating up a black man for apparently no reason, raising questions and general community outrage about the use of force.
The incident involving 25-year-old Richard Hubbard III unfolded Saturday morning in the Cleveland suburb of Euclid, Ohio, in what was meant to be a routine traffic stop, the Washington Post reports.
Hubbard had "rolled through" an intersection in his vehicle, according to police, and then a search of the vehicle he was driving showed that the owner had a suspended license. And, so, the cops pulled him over.
Fair enough, right?
However, the situation quickly escalated into an officer dragging Hubbard to the ground before punching him repeatedly.
G/O Media may get a commission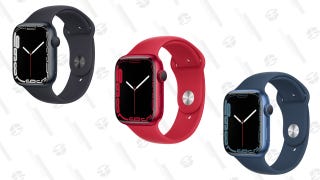 Up To $45 Off
Apple Watch Series 7
Facebook user Lashaunda Malone captured footage of the incident, which originally went viral with almost 6 million views. That footage only shows the beating, with Hubbard on the ground with an officer straddling him and viciously punching him with both hands as Hubbard's female companion screams.
"Mommy, what are the police doing?" a child can be heard asking in the background of the video.
"Oh my God, he's punching him," the woman can be heard saying.
But, you know how it is, cops like to talk about the "full story" not being captured in bystander video. On Monday, however, police managed to release the dashcam footage of the incident, and the "full story" doesn't look much better.
In the police video, Hubbard can be seen arguing a bit with the officers who pulled over him and his companion, his voice seeming to remain calm the whole time. Police claim that a "violent struggle" broke out when Hubbard ignored officers' orders to face away from the arresting officers so he could be taken into custody, the Post notes.
However, the footage appears to show Hubbard getting out of his car. And as soon as the officer tells Hubbard to face away, the 25-year-old appears to barely have enough time for the command to register before the cop grabs him and pins him to the side of the vehicle, then slams him onto the ground. Then comes the assault.
As the officer drags Hubbard to the ground and starts to hit him, his partner comes around to help him. That is when Hubbard's companion, a black woman, gets out of the car and begins to scream.
"Bae, stop. Please listen, just let them do what they do," she can be heard saying.
One officer is seen slamming Hubbard against the pavement before punching him several times. Although police say that Hubbard was resisting, video appears to show him lying on the ground, only attempting to defend himself from the officer's strikes with his arms.
Things start to get grimy when an officer claims that he sees Hubbard "reaching down." Hubbard insists that he doesn't have a gun, screaming, "Record this shit! Record it!"
One of the officers repeatedly punches Hubbard again before bystanders and more police begin to arrive. Officers then cuff Hubbard's hands behind his back as an outraged crowd looks on.
Hubbard's companion is also arrested, which raises more questions.
"What am I under arrest for?" she can be heard asking.
The video ends with the two people being taken away into custody.
According to the Post, police have not identified the officer involved in beating up Hubbard, but said that he was placed on paid administrative leave pending an investigation.
"This entire incident will be reviewed, in detail, so that the public can have a full and open understanding of the series of events that eventually led to this violent encounter," a department spokesman said.
Nonetheless, both videos have city officials, activists and residents demanding answers about why the use of force was necessary against Hubbard.
"The videos of the incident on Saturday morning raise some very serious concerns," Euclid Mayor Kirsten Gail said in a statement, according to the Post. "We have policies and procedures in place to ensure that all use of force by police are both lawful and justified. I can assure you the incident will be reviewed thoroughly, and appropriate action will be taken."
Violent cops never rest ... well, unless they have to face off against white supremacists terrorizing the community; then, apparently, they get really quiet.
But I digress.
Hubbard was ultimately charged with driving under suspension and resisting arrest. He was taken to the Cuyahoga County Jail Euclid Annex, where he was medically examined and posted bond shortly after. A booking photo shared by Cleveland 19 shows him with a swollen and bruised face.
According to the Post, local media also reported the arresting officer being treated at a hospital, although the injuries weren't specified.
By Saturday night, protesters had rallied near the site of Hubbard's arrest, demanding action and answers.
"There seems to be some aggression, and at no time have we seen de-escalation take place," Michael Nelson, an attorney with the local NAACP, told Cleveland.com. "This particular video tape is disturbing regardless of the underlying circumstances."
"The city government fails to respond to black folks," local organizer Rian Brown added. "This is nothing new. This is something we are seeing all across the country."
Read more at the Washington Post and Cleveland.com.